---
Saturday, January 10, 2010 ~ TOPS Chinese Buffet
---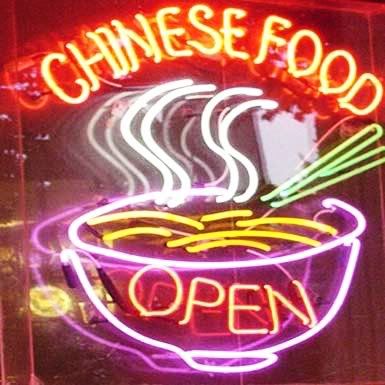 We had a lovely lunch at the Chinese Buffet. Unfortunatly, I forgot to take any pictures. Great way to start the new year. At the lunch was Boe, Darlene, Kathe, Phyllis Rose, Betty and Priscilla.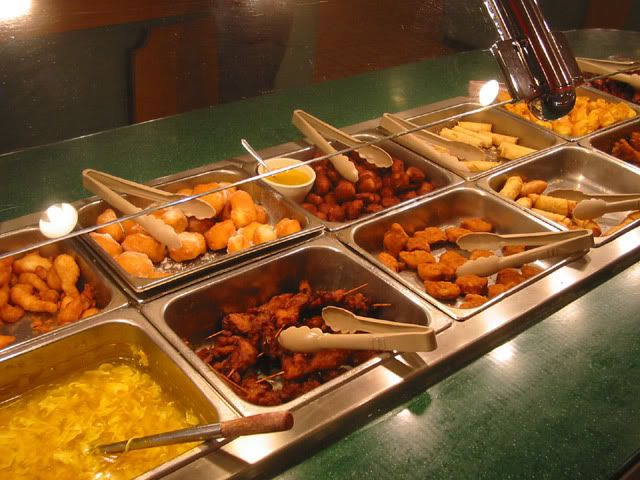 This wasn't really the buffet, but you know they are pretty much the same. YUM!!
---
Chinese New Year ~ Spa Day ~ Saturday, February 13, 2010
---

We spent our morning at Raphael's School of Beauty where we had facials, massages, pedicures and manicures. The first appointments were at 9:15 and everyone was finished before 1pm.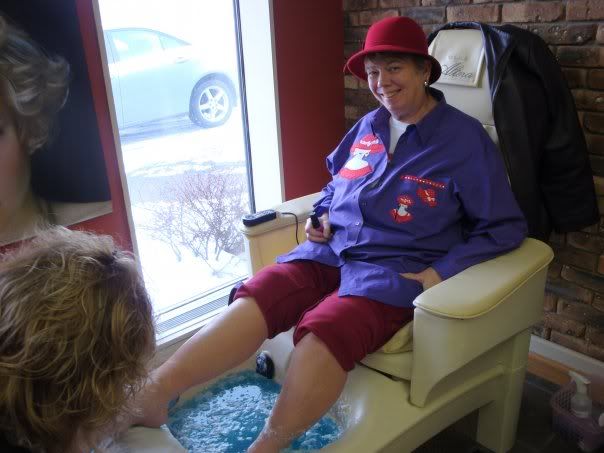 Darlene is enjoying her pedicure after she had her Vitamin C facial.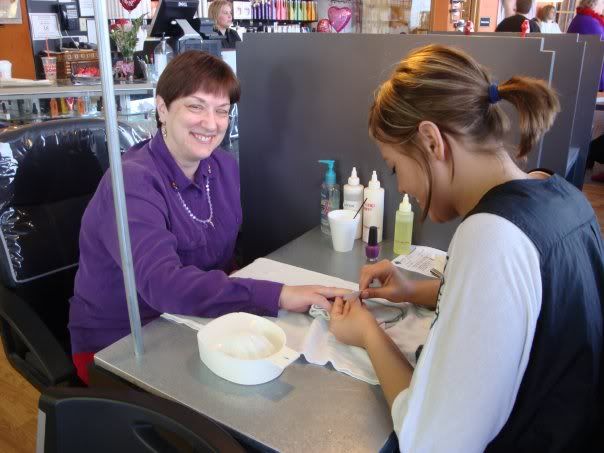 Here is Phyllis Rose getting a manicure. Her polish matched her shirt.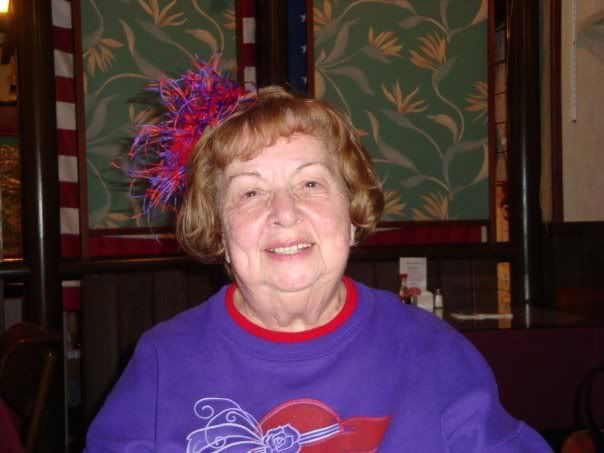 Boe had a facial and then had a shampoo and set and a manicure. She looks great.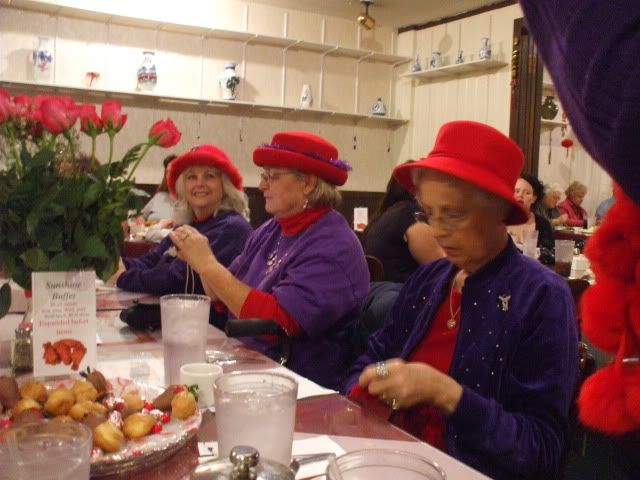 After all the spa treatments, we headed up to Sunshine Buffet, in Niles, OH on 422. They were celebrating Chinese New Year. Here is Reba, Kathe & Grace. Notice the tray on the table. Mary brought chocolate covered strawberries that she made and cream puffs. Boy were they good. She also brought the pink roses for the table and then sent one rose home with each of us.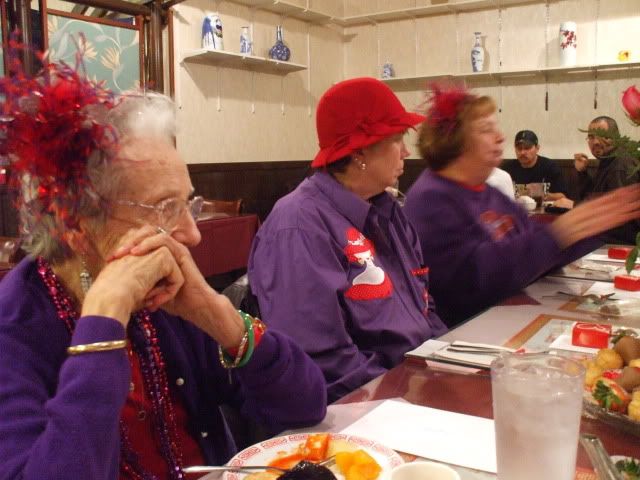 Here is Betty, Darlene & Boe. We were just chatting and hadn't started to eat, except the chocolate covered strawberries. Who could resist them? LOL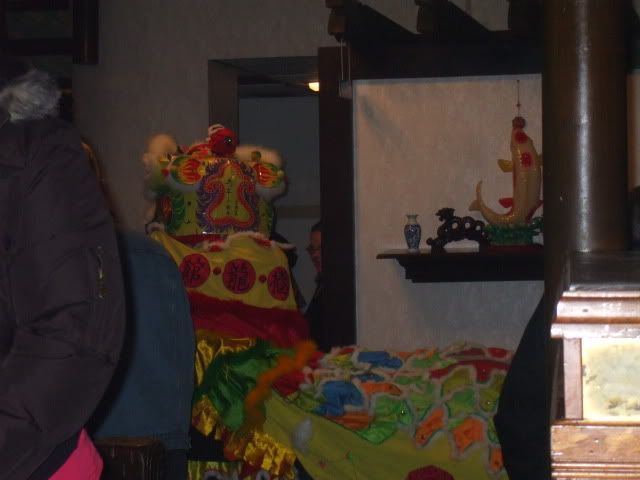 At 1:30 the Lion Dance started with some firecrackers and then a man had like a gong type thing that he played for the Lion to dance to. It started out in the lobby and made it's way around the whole restaurant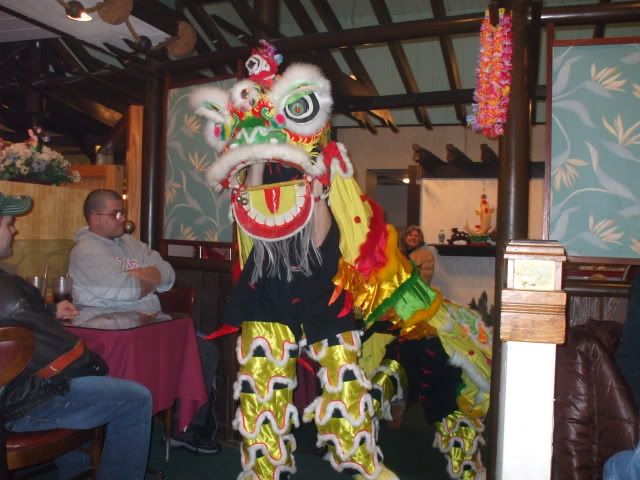 Here the lion is coming up near us. Lion dance is a form of traditional dance in Chinese culture, in which performers mimic a lion's movements in a lion costume. The lion is often, and wrongly, mistaken as dragon. An easy way to tell the difference is that a lion is operated by two people, while a dragon needs many people. Also, in a lion dance, the performers' faces are covered, since they are inside of the lion. In a dragon dance, the performers can be seen since the dragon is held upon poles. Basic lion dance fundamental movements can be found in most Chinese martial arts.
When the Lion got near Reba, he thought she looked good enough to take a bite of.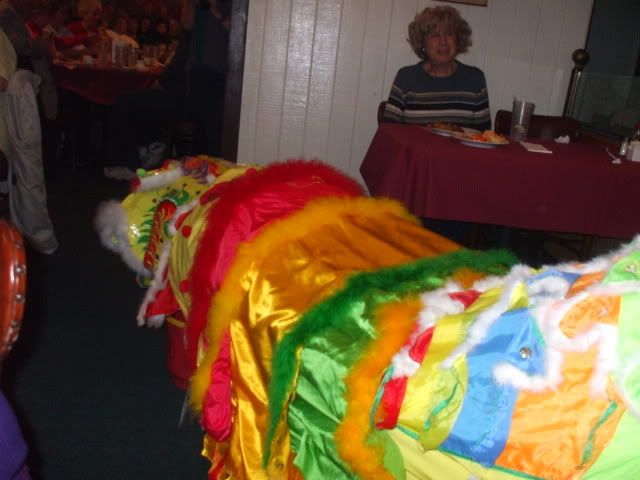 Here the lion was eatting from a bucket on the floor. When he stood back up the spit out candies and cookies on the tables.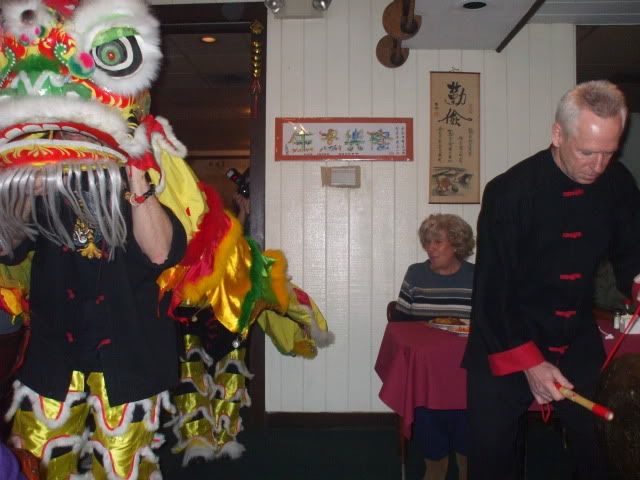 Here you can see the man who was playing the gong.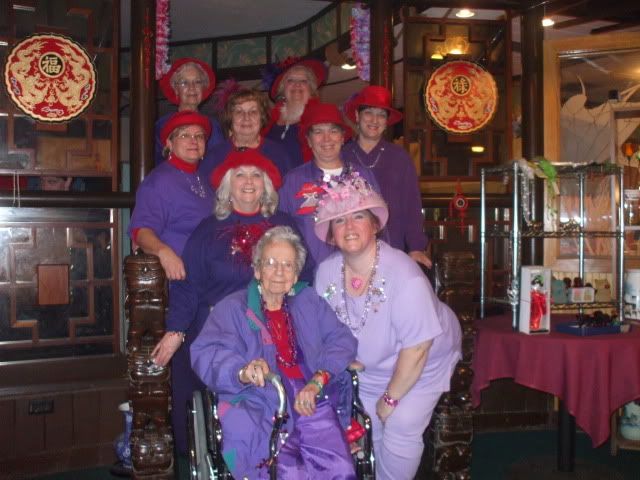 Before we left we had a group picture taken. I think we all had a good day. And a good meal at Sunshine Buffet.
---
2011 was a bad year so very few pictures got taken
---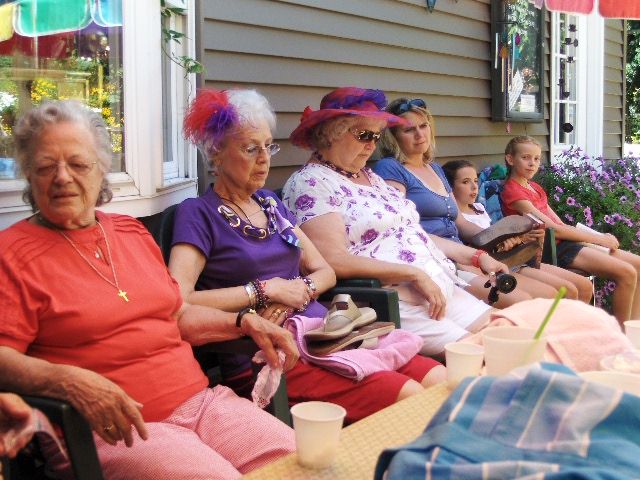 Happy Feet for July 2011, Janet Gladd, Grace Hileman, Mary Shaffer, Mariah, Meaera & Shaila Shannon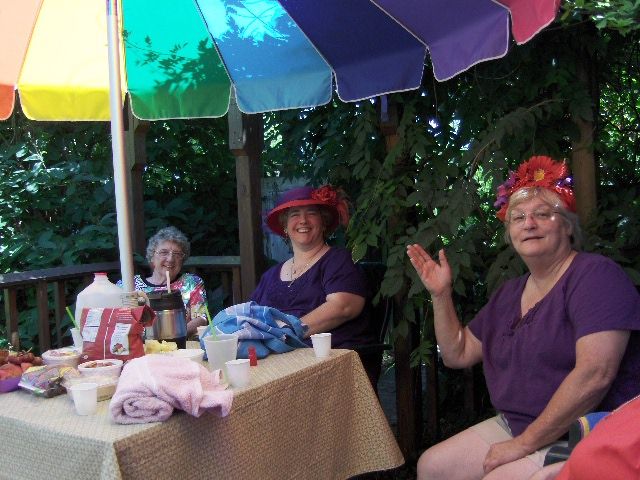 I had just turned Red here. Vonda Overfield, Me-Priscilla Sharp & Kathe Wilson
---

We went to Hillard, PA on October 29th, 2011 - We had dinner at a great place on the river and then hit the other shops in the area. A wine shop plus lots more. We later went to a glass blowing shop.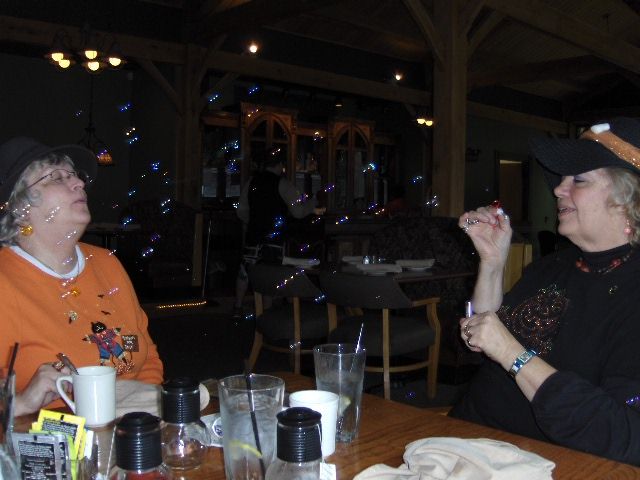 Bubble Time at the restaurant. Mary was blowing bubbles and Kathe was helping them to fly and catch them.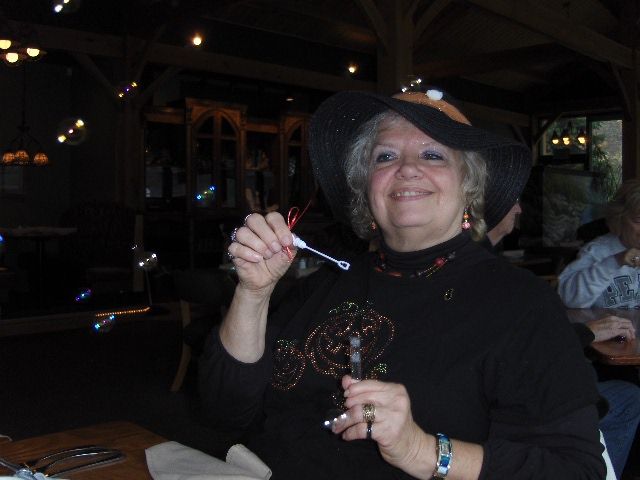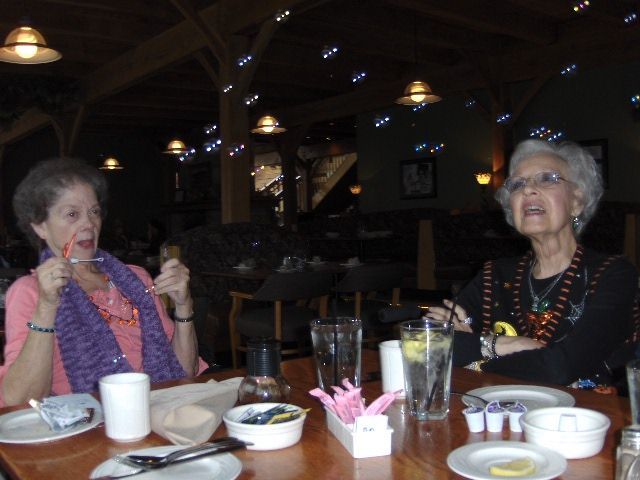 Gert & Grace with more bubbles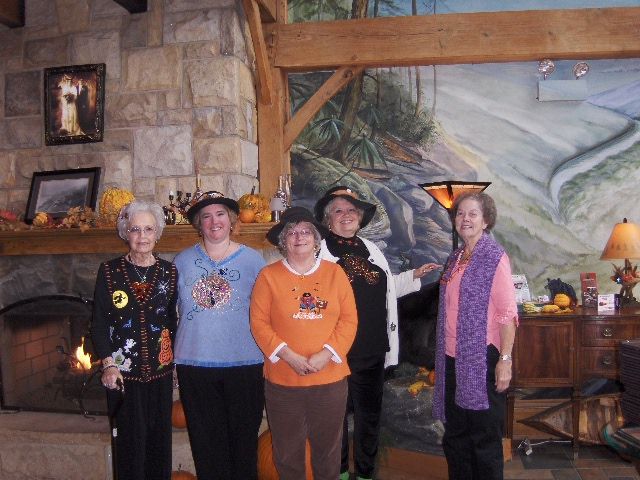 This was at the restaurant. We opted to dress in seasonal clothes for our outing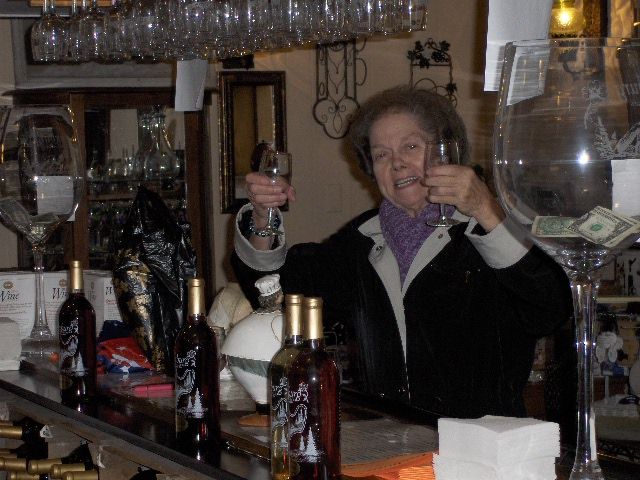 Here is Gert, 2 glasses of wine in hand. She is ready to go.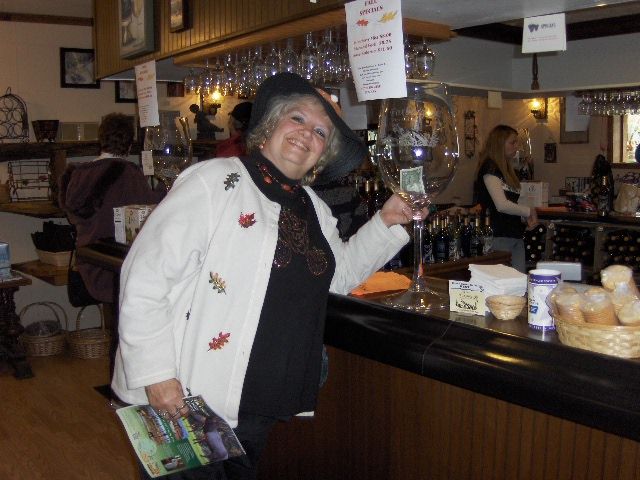 Mary found her new glass. Wonder how many bottles that glass will hold?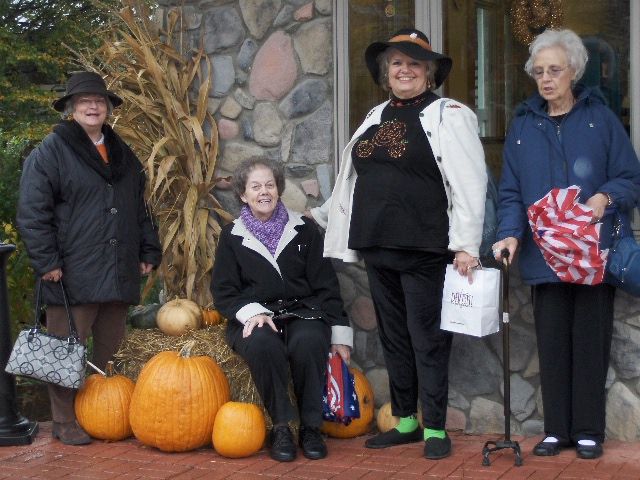 Here are the ladies outside another cute shop. Kathe, Gert, Mary and Grace.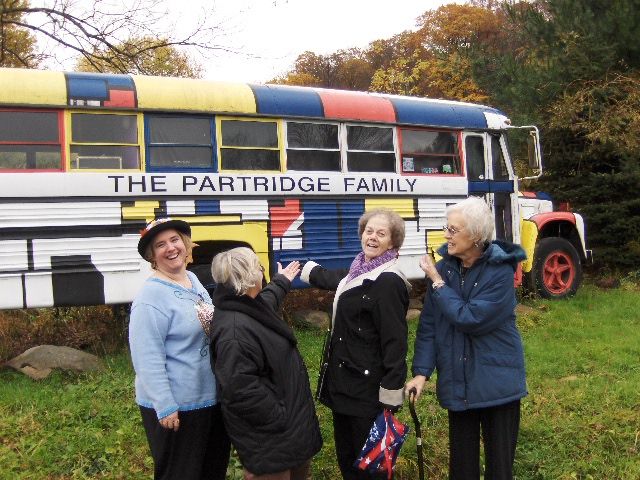 This Partridge Family Bus was parked outside of the Glass Blowing place we visited.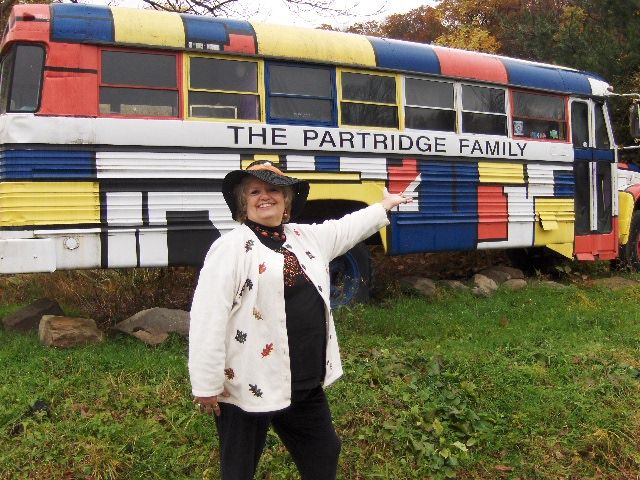 Mary was taking the other group picture so here she is alone.
---
Saturday, November 26, 2011
---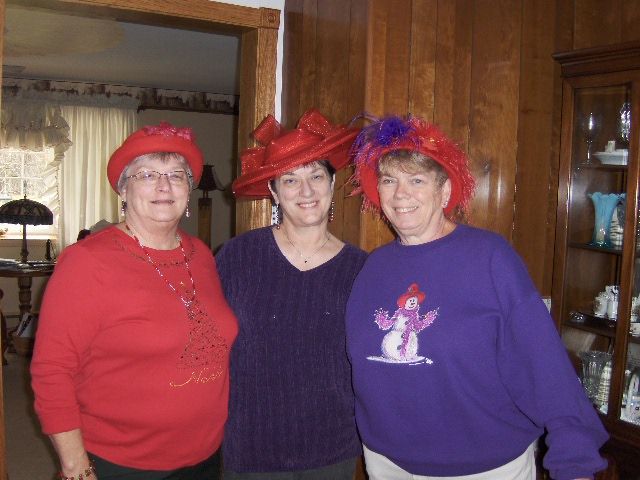 We had our Christmas Party at Gert's home. We had it early before Mary went to Australia for the winter. Here is Kathe, Phyllis Rose & Darlene.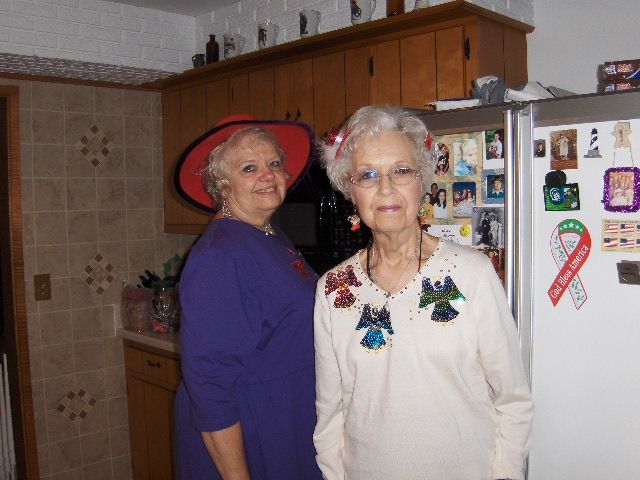 Here is Mary and Grace in Gert's kitchen.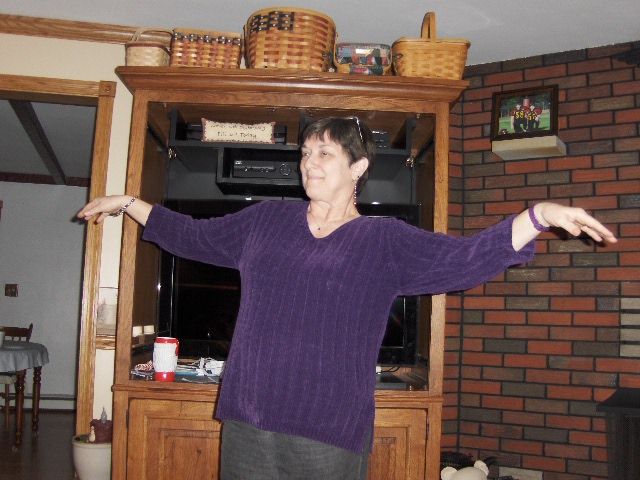 We played charades and here is Phyllis Rose trying to get us to guess - Can you guess what it was?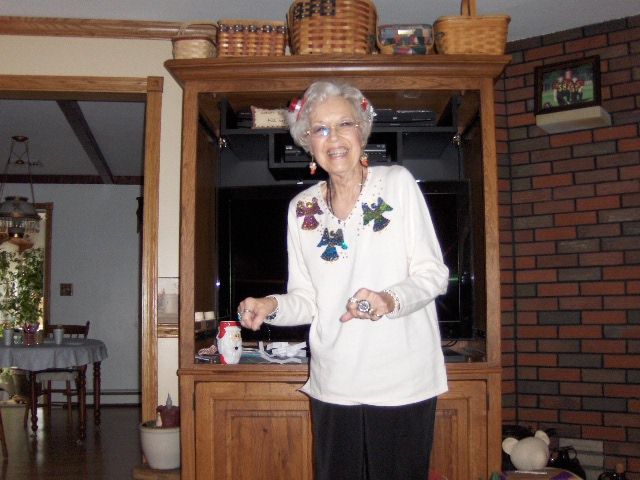 Grace was having a good time trying to get us to guess her charade clue.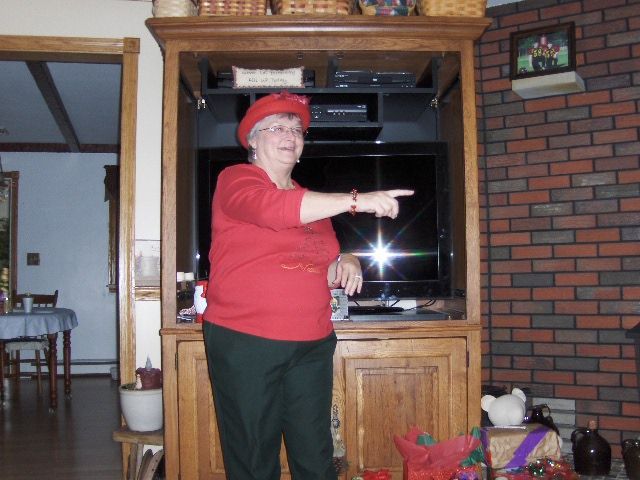 I'm not sure Kathe, give me more clues.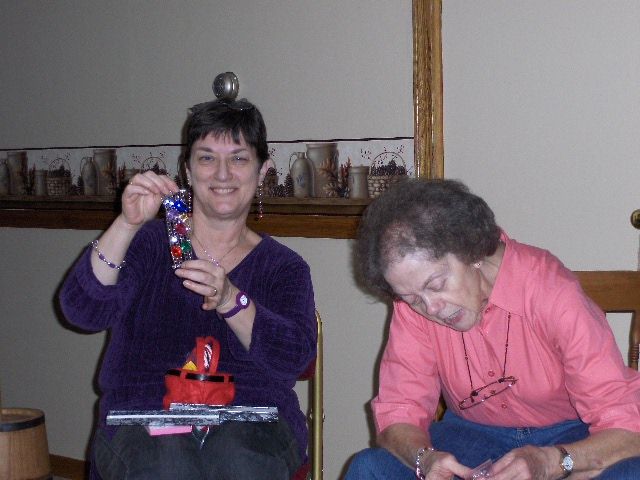 At our Christmas party here is Phyllis & Gert opening gifts.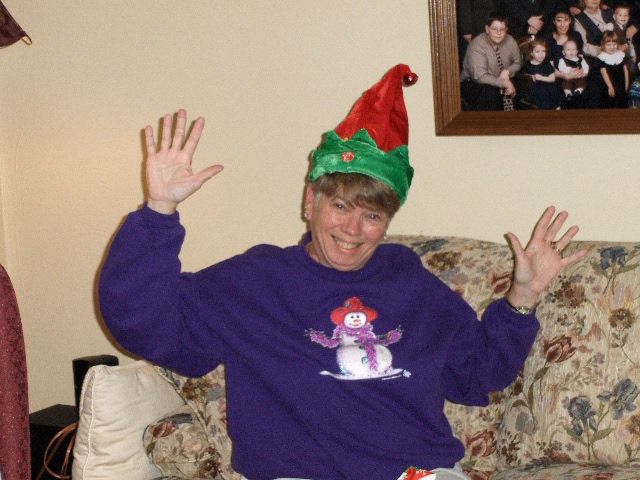 Darlene got this cute musical elf hat.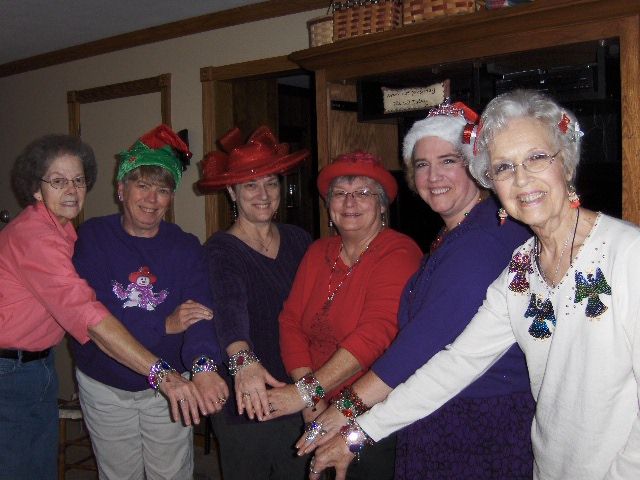 Showing off matching bracelets. Gert, Darlene, Phyllis, Kathe, Priscilla & Grace. Mary was taking the picture.
---
2012
---
---
Saturday, January 28, 2012
---

For our first outing of 2012 we went out to lunch and then to see a movie. Queen's choice - we went to Dairy QUEEN for lunch. Then went to see "We Bought a Zoo" Two of Kathe's friends joined us for the day.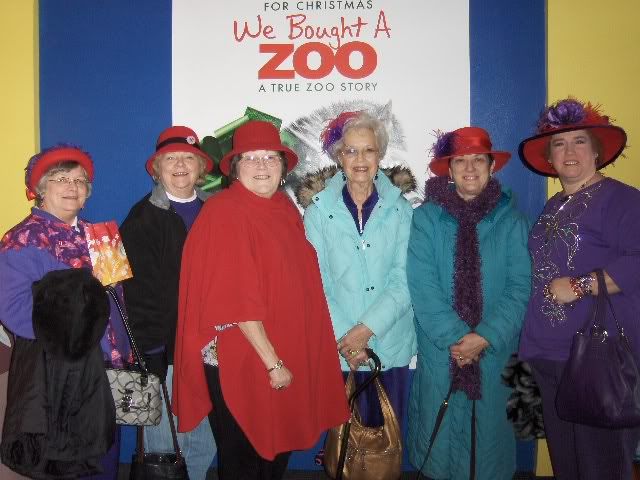 Kathe Wilson, Charlene Kunkel, Marian Simpson, Grace Hileman, Phyllis Sanford, Priscilla Sharp
---
Saturday, April 28, 2012 ~ IHOP & a Movie
---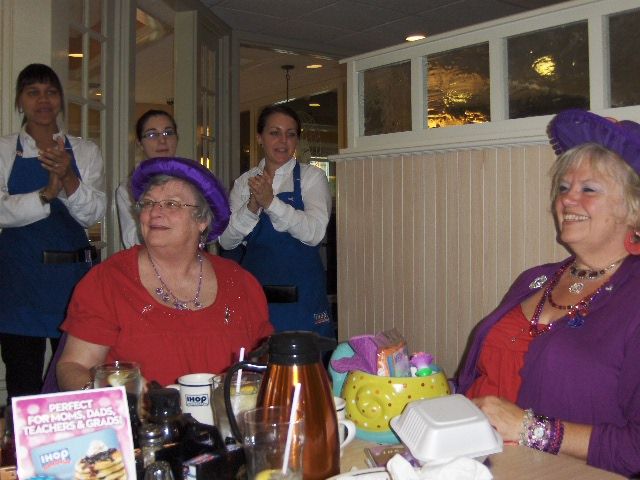 We celebrate 2 birthdays in April. Our birthday girls, Kathe and Mary were being sung to by us and the IHOP staff.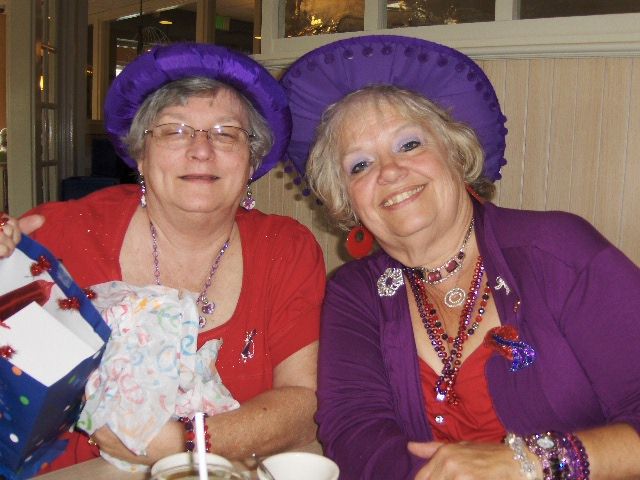 Happy Birthday Kathe & Mary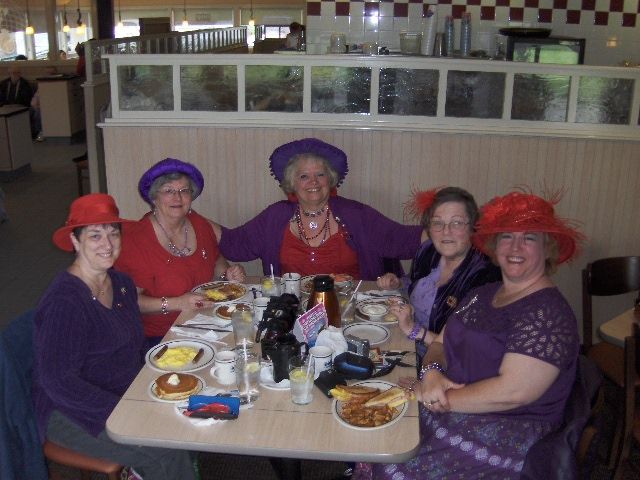 Another customer climbed up on the seats of a booth across from us to take this picture. It was quite entertaining, he kept trying to not move, the seats weren't a solid surface to really stand on. Phyllis, Kathe, Mary, Marian & Priscilla
---
Saturday, May 19, 2012 ~ Church Tea
---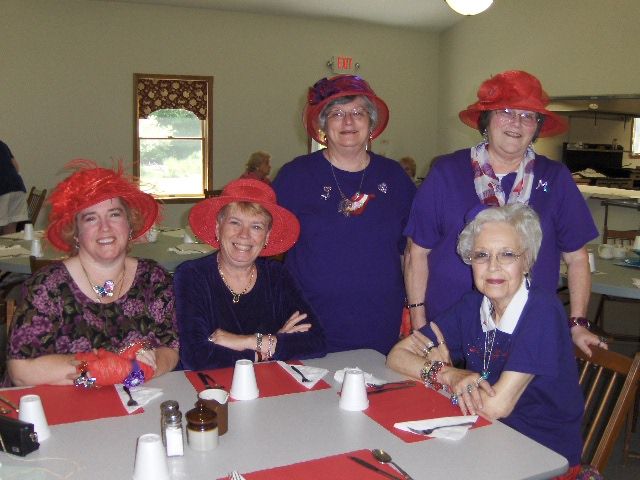 We went to a Tea ~ Priscilla, Darlene, Kathe, Marian & Grace.
---
Saturday, June 23, 2012 ~ Happy Feet
---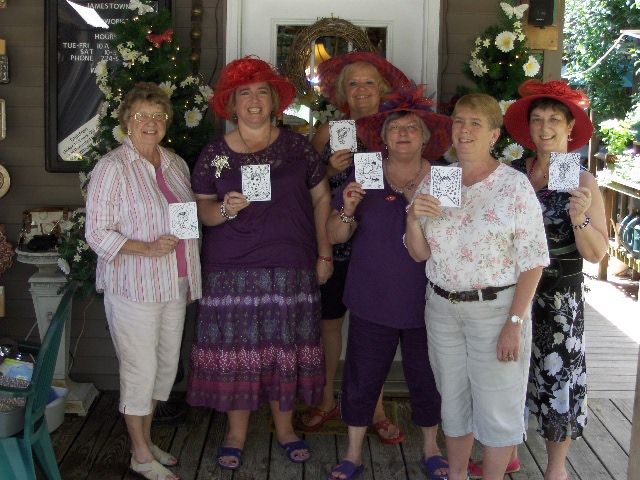 Happy Feet at Jamestown Soapworks. Jan had us Doodling so we are holding up our creations. They started with the pattern of a foot. My neighbor Vonda joined us, Priscilla, Mary, Kathe, Darlene & Phyllis.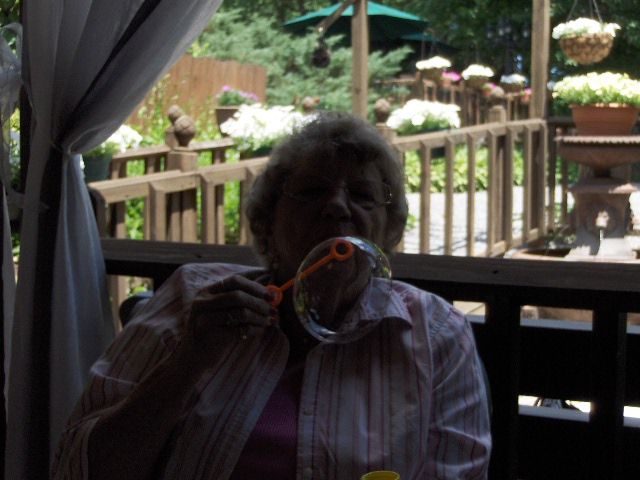 Vonda blowing bubbles.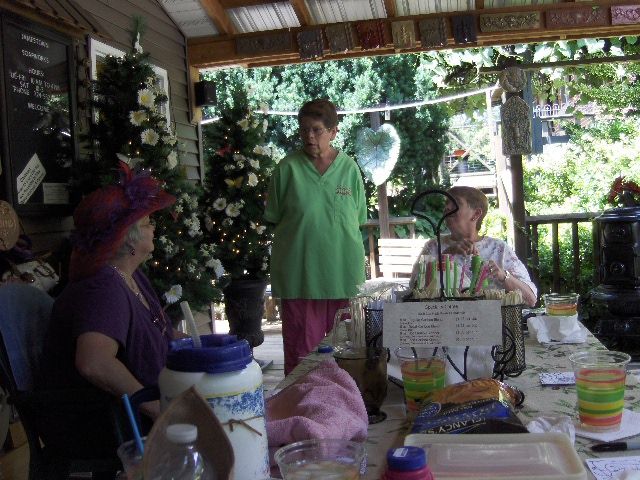 ---
Saturday, July 21, 2012 ~ Happy Feet
---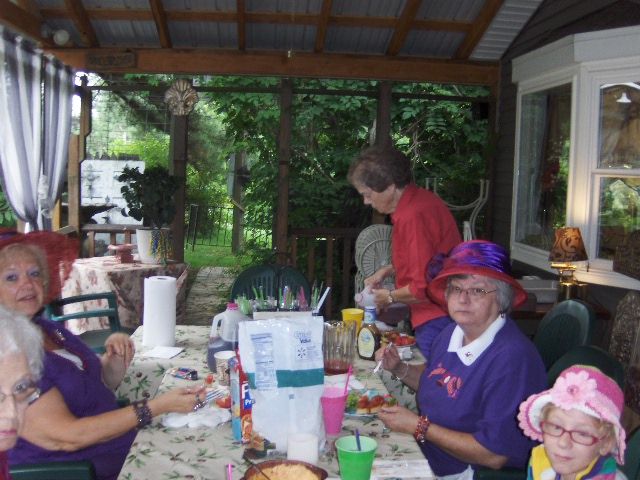 July Happy Feet ~ Grace, Mary, Gert, Kathe and Kathe's great granddaughter Trinity.
---
Saturday, September 22, 2012 ~ Happy Feet
---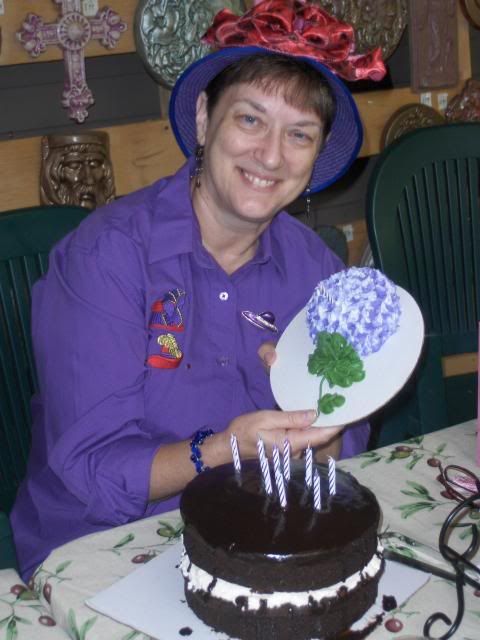 At the September Happy Feet we celebrated Phyllis birthday.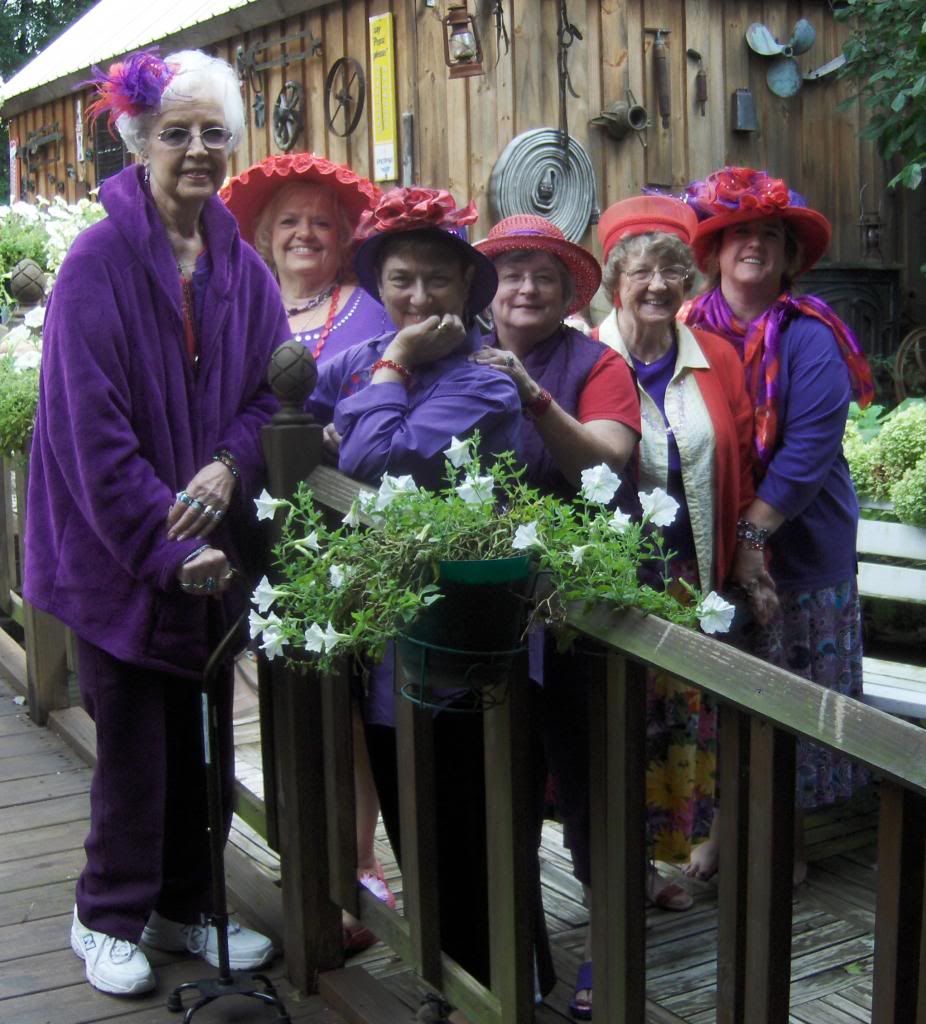 Grace, Mary, Phyllis, Kathe, Vonda and Priscilla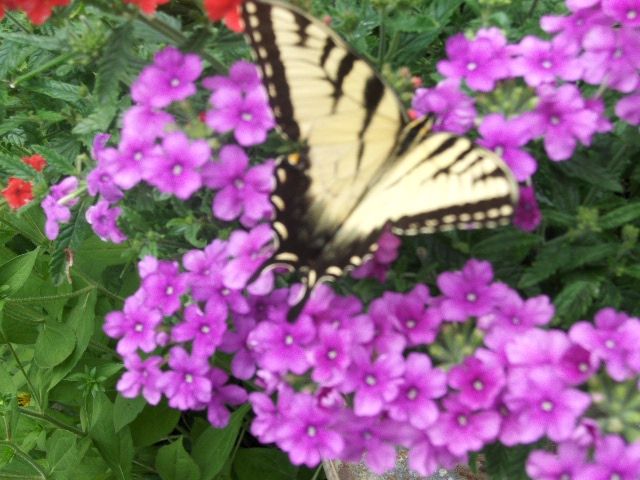 This beautiful butterfly came to brighten our day.
---
2013
---
---
Saturday, March 30, 2013 ~ Hickory Grill
---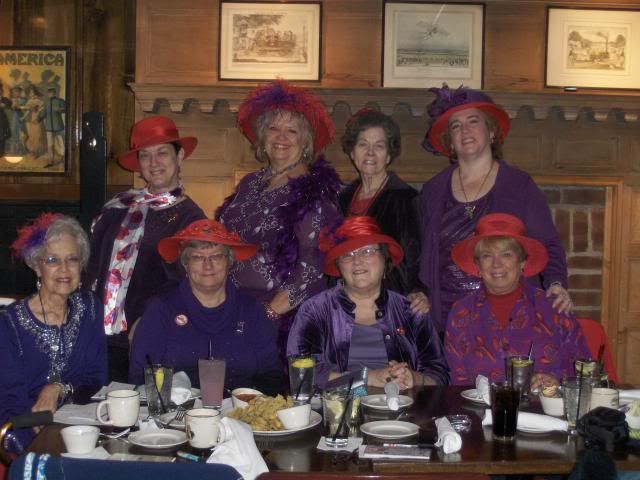 Due to lots of health and scheduling issues our first meeting of the year was in March. We met for lunch at Hickory Grill in Hermitage and planned the rest of our years activities. Some of us went to see a movie afterwards.
Back~ Phyllis, Mary, Gert & Priscilla ~ Front~ Grace, Kathe, Marian & Darlene.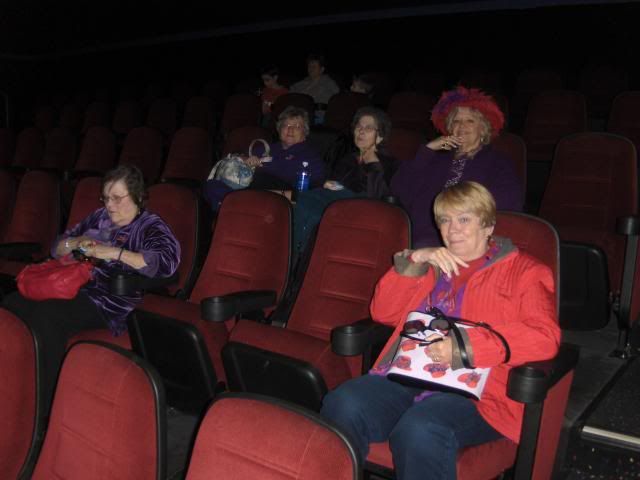 Waiting for the movie to start. We went to see the animated 3D movie The Croods.
Marian and Darlene with Kathe, Gert & Mary behind them.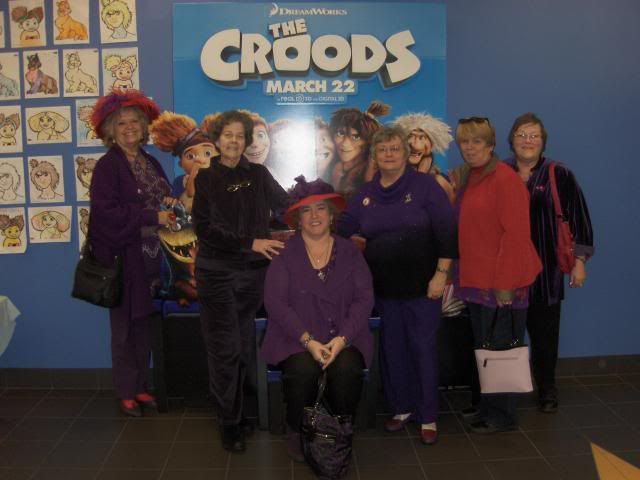 We found some movie displays to play with. This is the movie we went to see. Mary, Gert, Priscilla, Kathe, Darlene & Marian.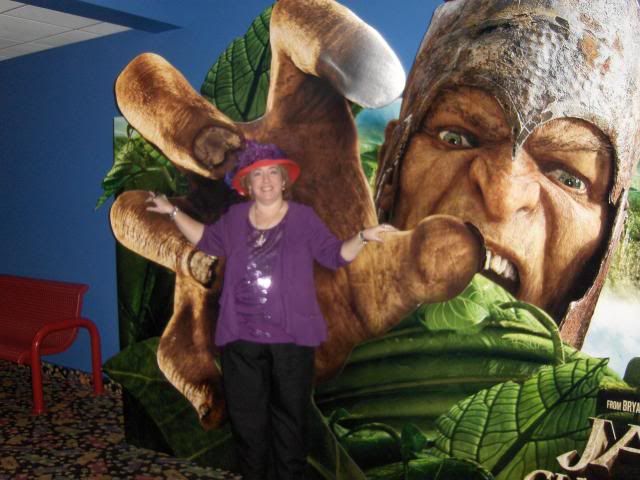 This was Jack the Giant Slayer display and thought it looked FUN.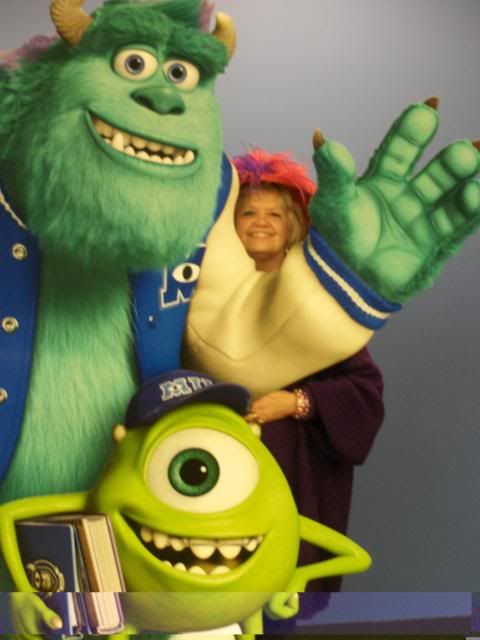 Here is Mary with Sully from Monsters, Inc.
---
Tuesday, April 16, 2013 ~ Ciannci's, Greenville, PA
---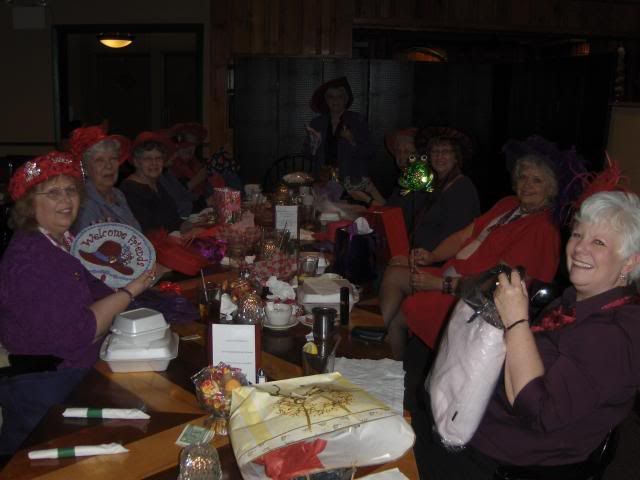 Only 3 of the Jewels were able to attend the Annual Red Hat Birthday Party that the Hadley Hatters organize each year.
Priscilla and Kathy from the Hadley Hatters.
---
Saturday, April 20, 2013 ~ Spring Tea
---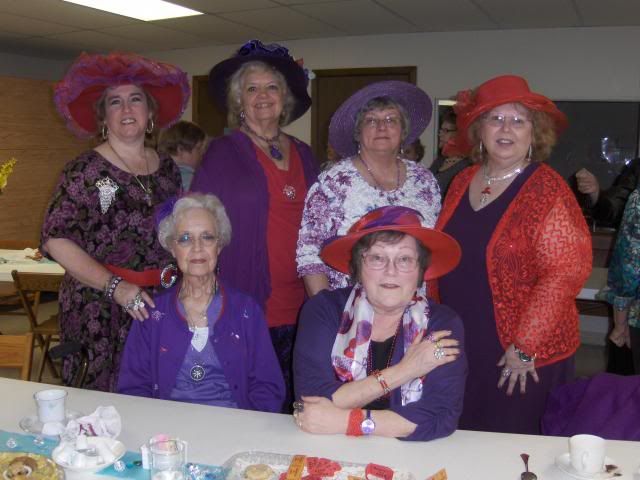 We went to a Spring Tea at St Patrick's Church in Kinsman, OH. It was very nice, the speaker talked about Vintage Clothes.
Sitting is Grace & Marian ~ Standing is Priscilla, Mary Kathe & Sandy
---
Saturday, May 4, 2013 ~ Applebee's Derby Day
---
We had lunch at Applebee's in Hermitage. We had a really nice time. Gert was out with a friend for the day so they both joined us for lunch.
Gert, Marian, Mary, Priscilla & Kathe
---
Saturday, October 19, 2013
---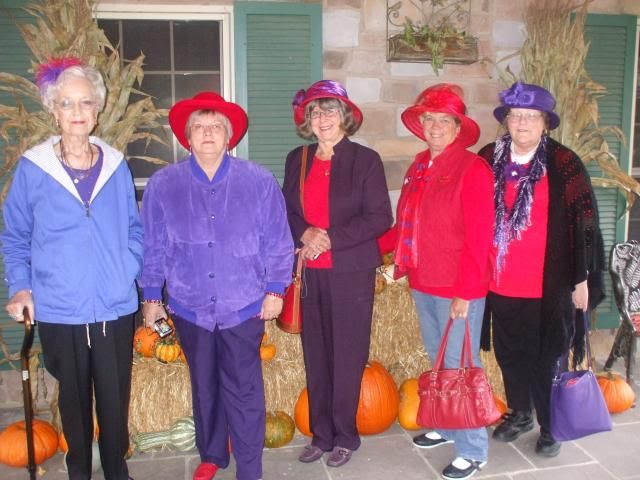 Our day in Foxburg, PA. We were there early so we checked out their library. They were having a book sale that day. We had a nice lunch at the Allegheny Grille and then hit the Winery before we left to go the the Glass Blowing Center in Hilliards, PA. This is Grace, Kathe, Nancy, Darlene and Marian.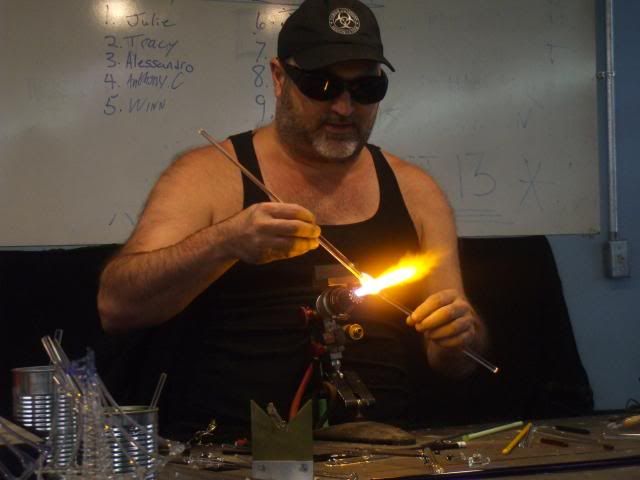 This is the owner of the Glass Blowing Center in Hilliards, PA. He gave us an interesting demonstration. He made a glass dolphin on a glass rod that you could put down in a plant. He gave it to me since I am the Queen.
---
Saturday, November 2, 2013 ~ Dinner & a Show
---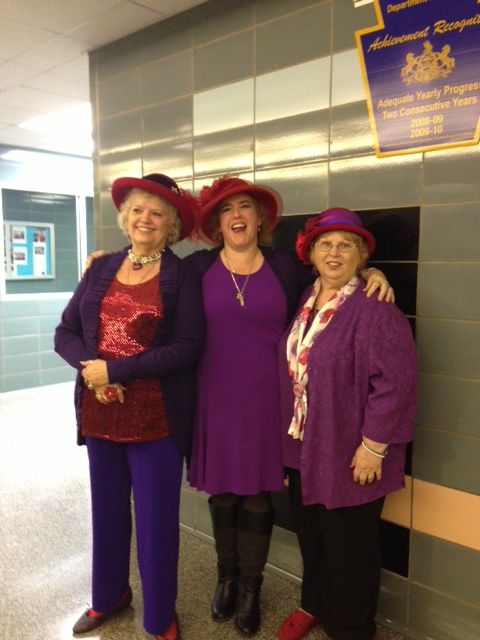 Only 3 of us were able to go to dinner at the Brass Lantern in Transfer. Mary, Myself and Sandy. We had a very good meal and nice relaxing talks. Afterwards we went to Reynolds High School where we met Darlene. It was the 32nd Annual Penn-Ohio Singers Show. Celebrate Harmony. It was great.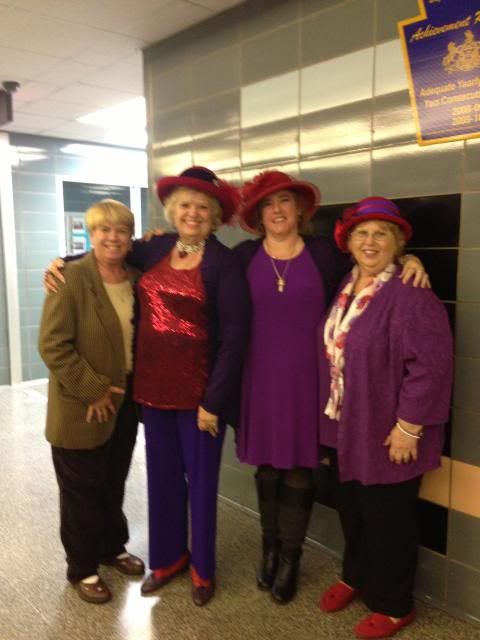 Here Darlene joined us for a photo opt. Darlene, Mary, Priscilla and Sandy.
---
Saturday,
---
---
---