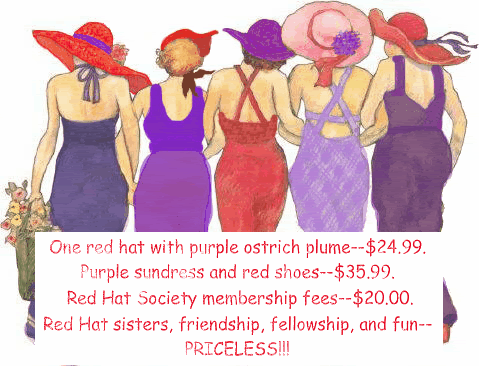 This is my first creation of the new year. We got a lot of snow and I thought, Why not. So Red Hat Snow Lady came to life. She is sporting a purple hat with red feathers, it's her birthday month after all. Then she wore a red boa, red earrings, a pin, necklace, 3 bracelets on her hands and holding her Kazoo, ready to play for you.

---
Jewels Christmas party ~ January 24, 2009
---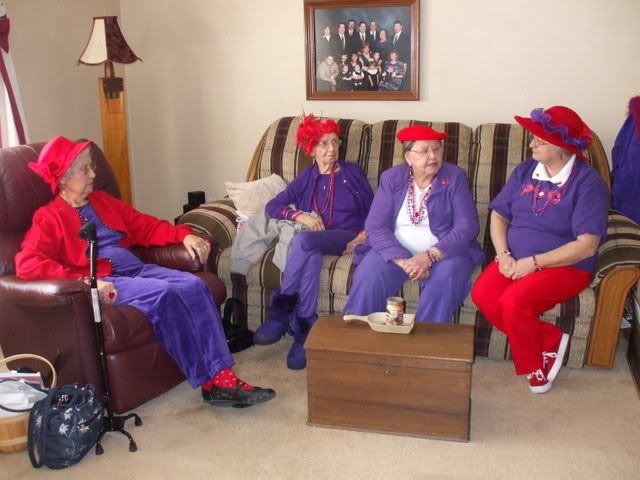 Our first get together for 2009 was January 24th. Gert hosted us as her home for our Christmas party. We had a very nice afternoon.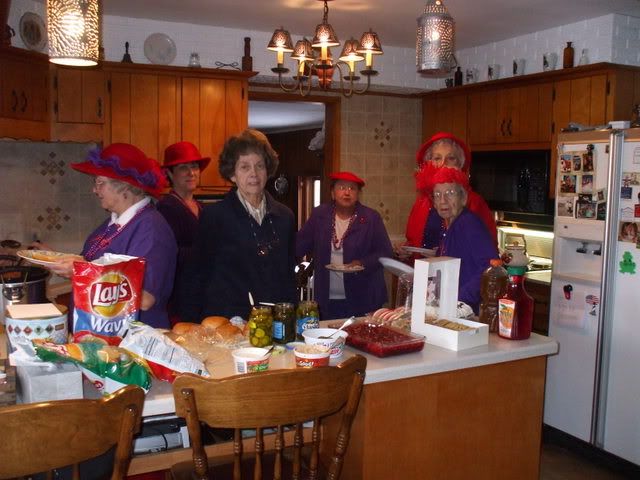 Getting ready to eat - Everyone brought a goodie to share.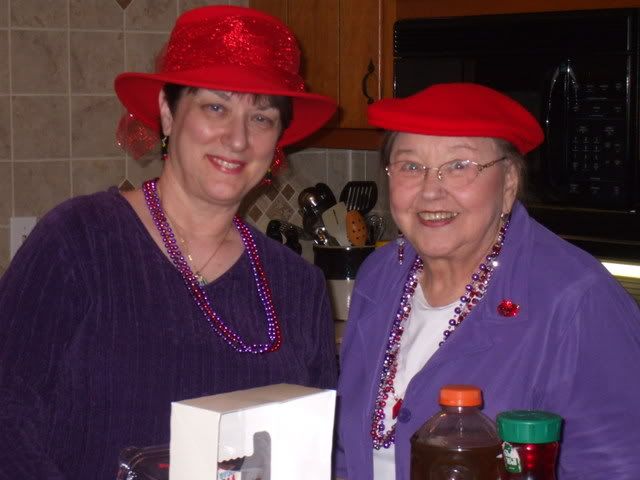 Lady Phyllis Rose & Duchess Phyllis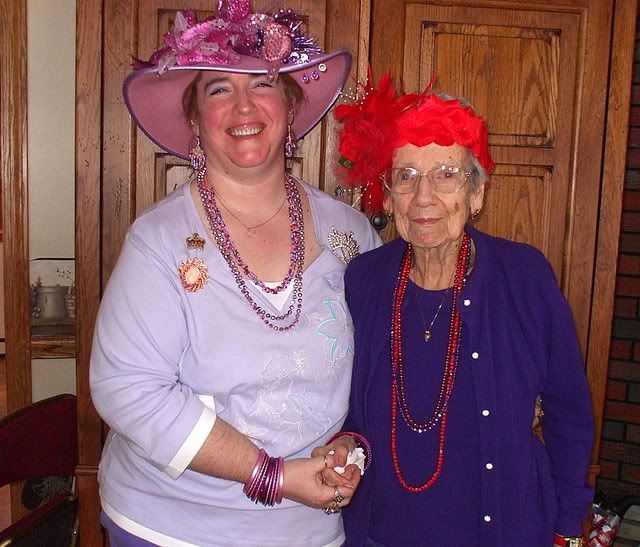 Queen Priscilla & Baroness Betty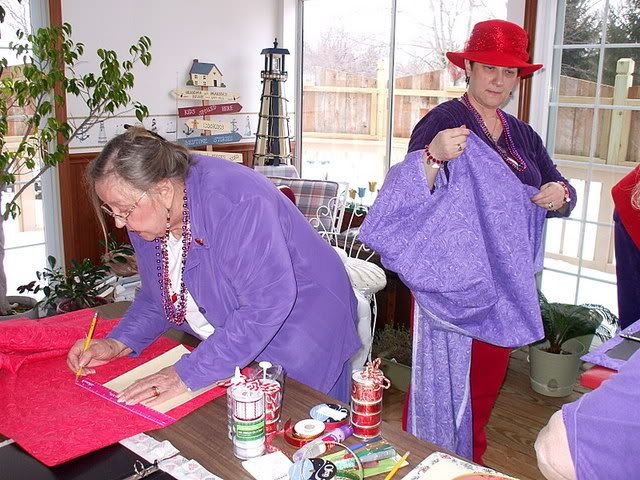 After we had lunch we opened all our Christmas gifts. I guess I was too busy opening presents to take pictures. hehe After we finish with that, Gert had a craft project for us to do as our gift from her. We covered notebooks with padding and fabric. There we are just getting started. Selecting and cutting out our fabric.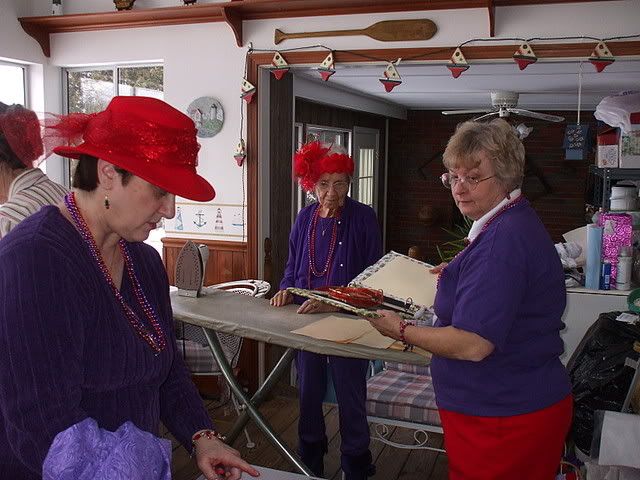 Working away.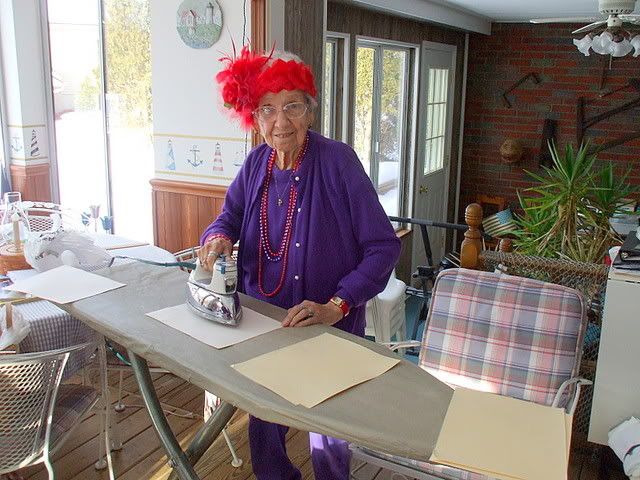 Baroness Betty did the ironing for everyone.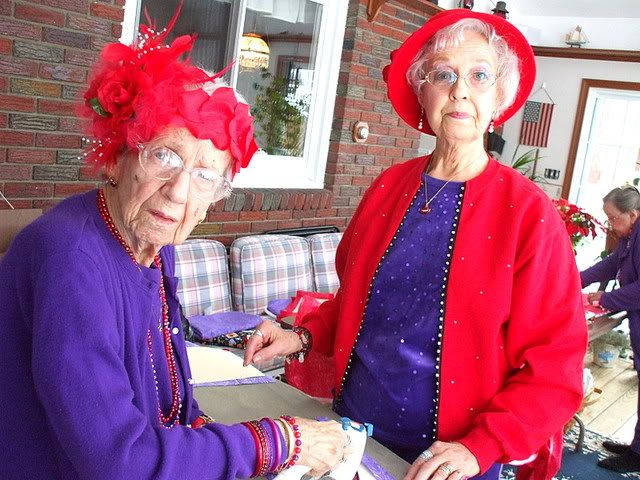 Say Cheese. Betty and Grace are working away.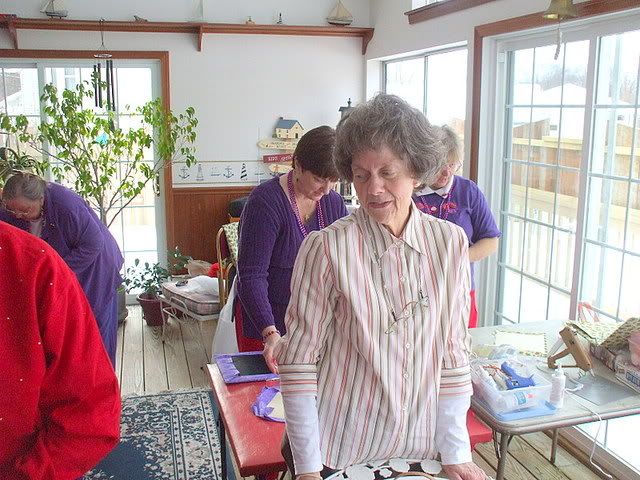 Gert is looking on, waiting to help someone who needs more instruction.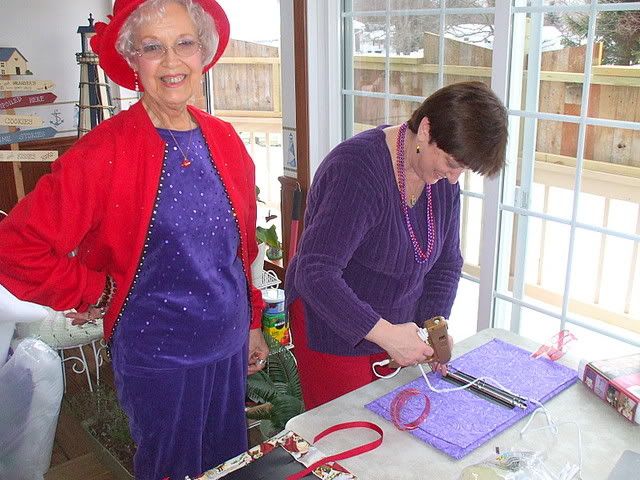 Phyllis Rose is busy gluing her fabric on and Grace is waiting her turn to work on hers.

---
Valentine's Day at White-Cliff ~ February 14, 2009
---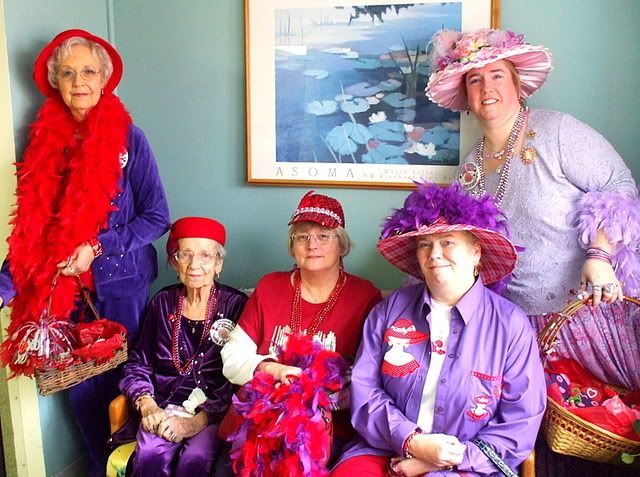 We made Valentine's and took them to White-Cliff nursing home and passed them out, wishing everyone a Happy Valentine's Day. It was very nice. Afterward we headed out to China Buffet for lunch.

---
Mardi Gras ~ February 24, 2009
---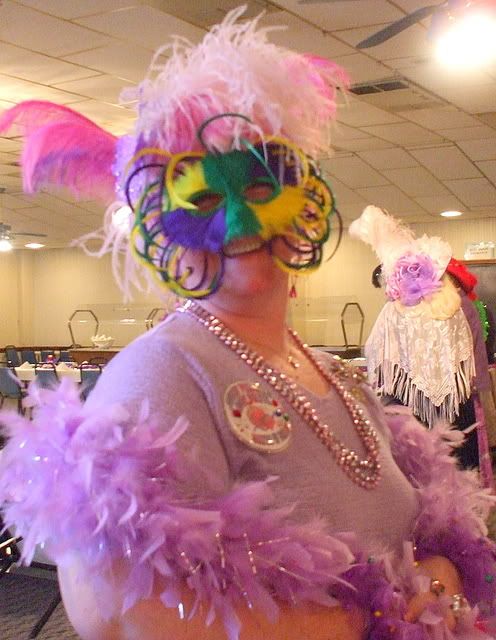 Queen of DeLite & Procrastination upon her arrival at Mardi Gras in Greenville, PA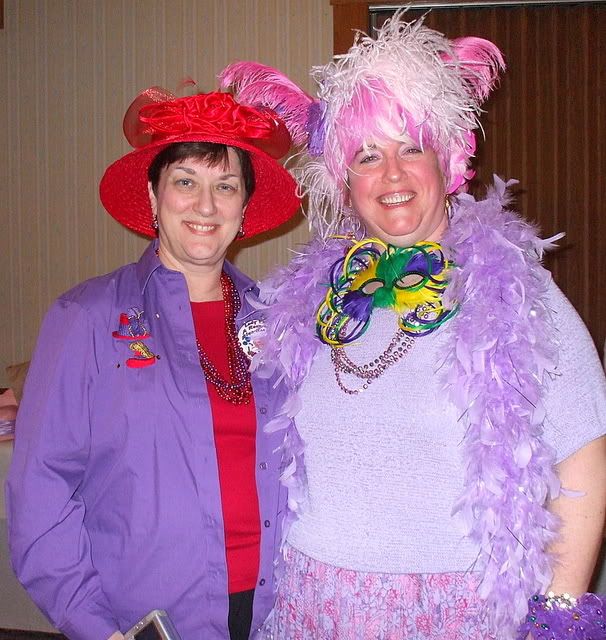 Lady Phyllis Rose and Queen Priscilla starting to get settled in for a fun evening at Mardi Gras

Ladies of the Hat
Queen of DeLite, Dame Silverlocks & Dame of Determination or Priscilla, Reba and Elaine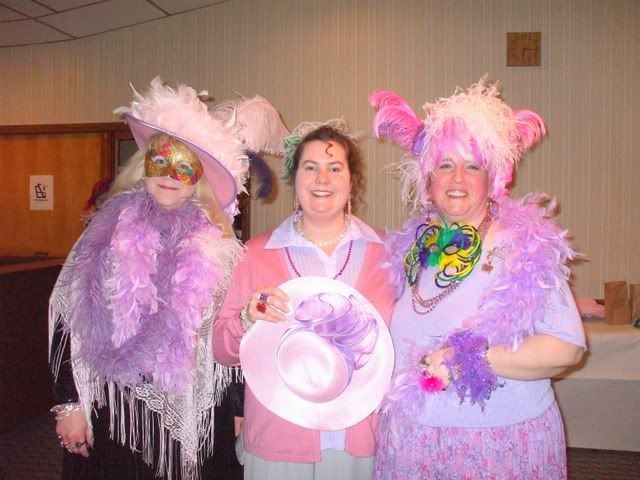 The Pink Hatters
Anne, Leanne & Priscilla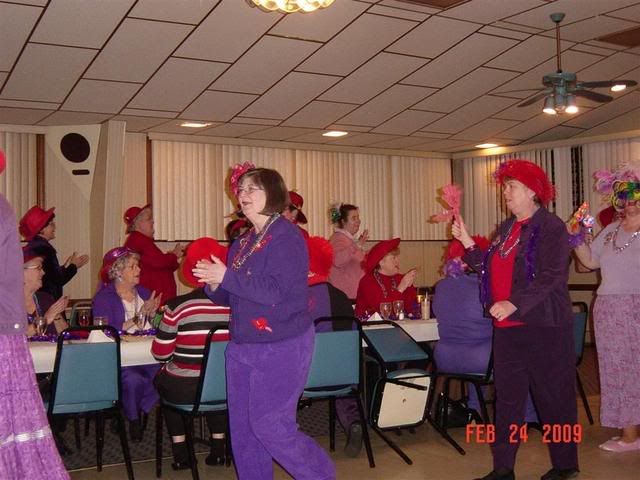 The first song that they played was "When the Saints go Marching In" so we started marching around the room with our noise makers, light wands, kazoos, etc.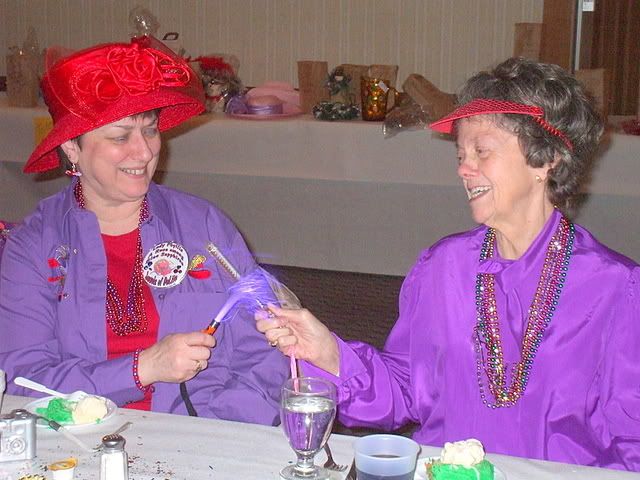 The Light Wand Dual between Phyllis Rose & Gert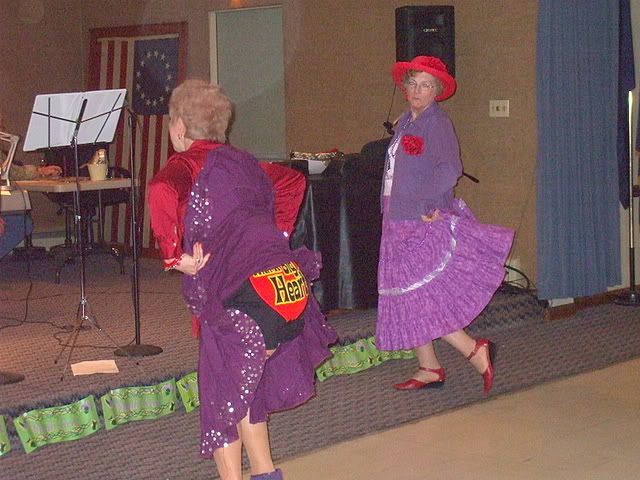 Part of our entertainment at Mardi Gras. Her Mary Ann Marshall & Betty Stubert are doing the Can Can.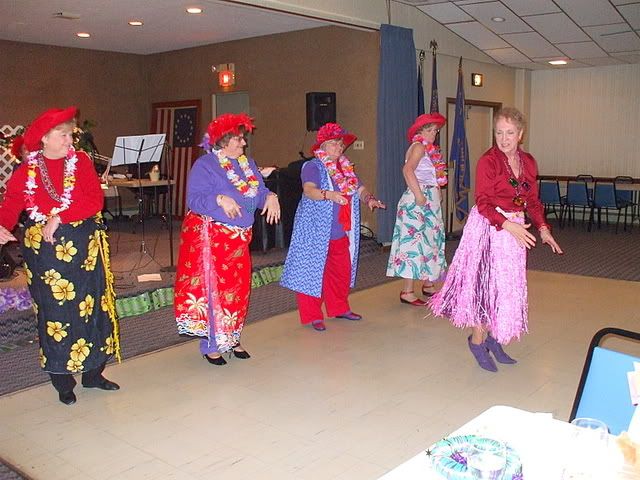 Later on we sang "Tiny Bubbles" as Mary Ann taught a few volunteers to do the Hula. Our Kountess Kathe is the 3rd in from the left.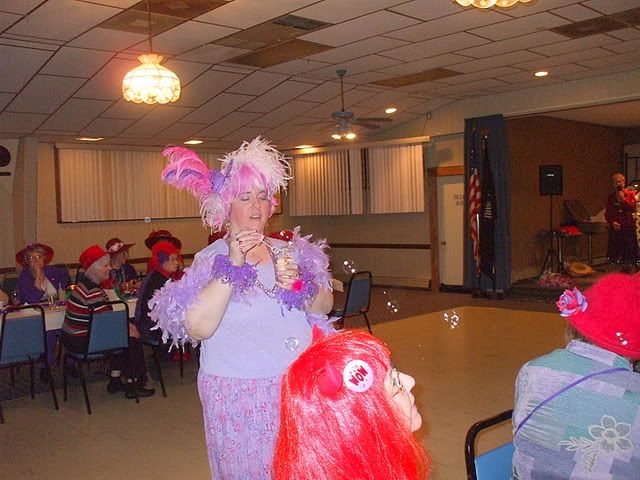 Here I am blowing bubbles while we sang "Tiny Bubbles"

Kathe is drinking the "Tiny Bubbles in the Wine"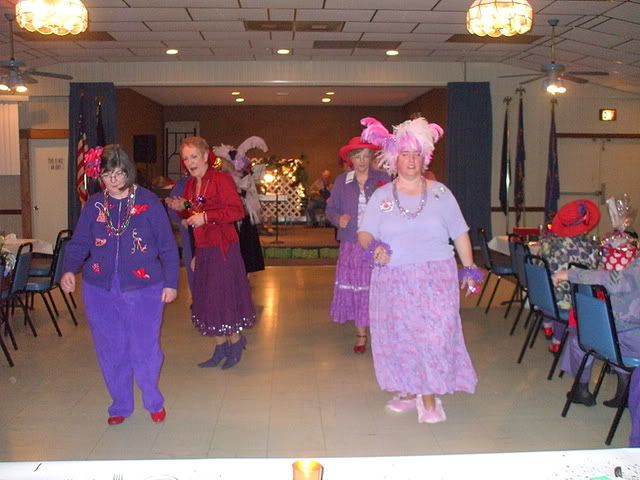 We later did some dancing. We first did the "Chicken Dance" then a little later we did the "Macarena" & then here we are doing the "Electric Slide"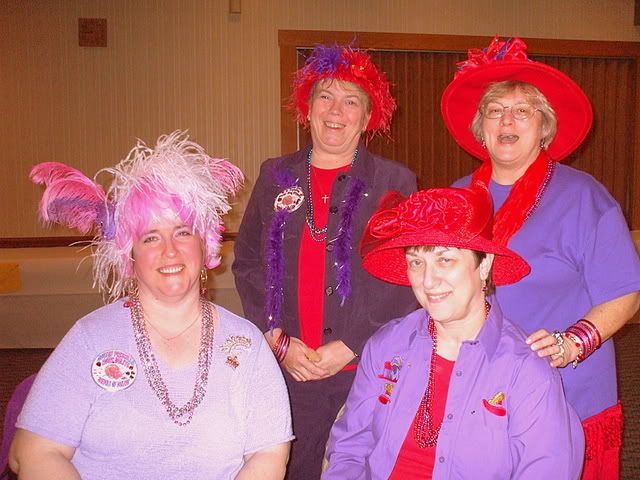 We took a group picture at the end of the evening. Gert had already left so she wasn't in this as you can see.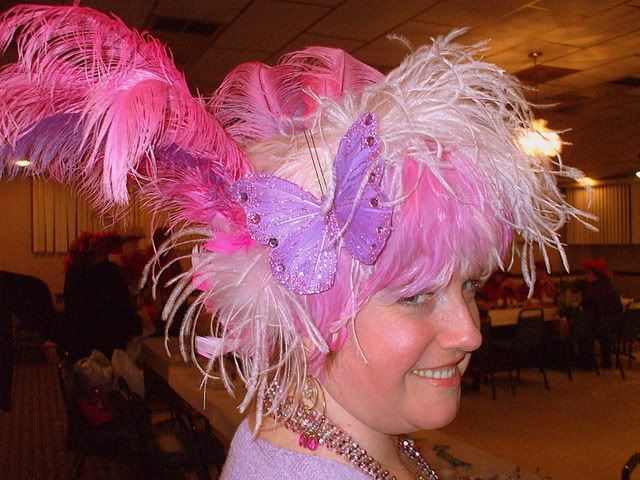 All my feathers and head piece. We all had a great time. Looking forward to Spring.

---
Easter Craft Day at Kathe's ~ March 14, 2009
---
This is Gert and Phyllis looking over all the supplies we were going to be working with. We made Easter Crafts out of polymer clay. I think everyone made some kind of beads, pins, earrings or pendants of some kind. I started out to make a RH lady figurine and ended up making butterflies for necklace and earrings and a couple hats for necklaces.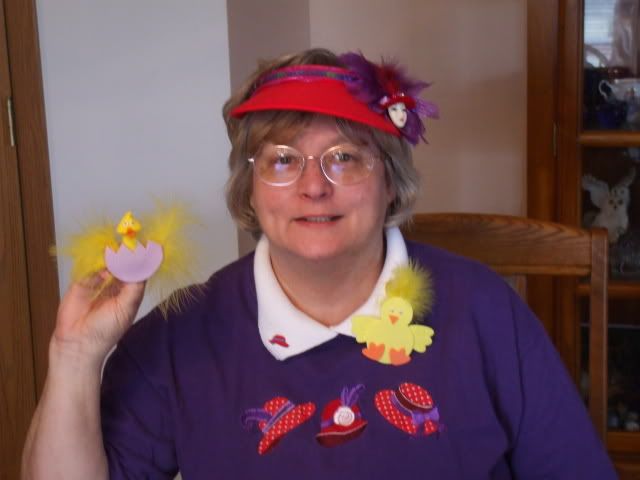 Here Kathe is holding up the chick coming out of the egg pin she made. Isn't it cute?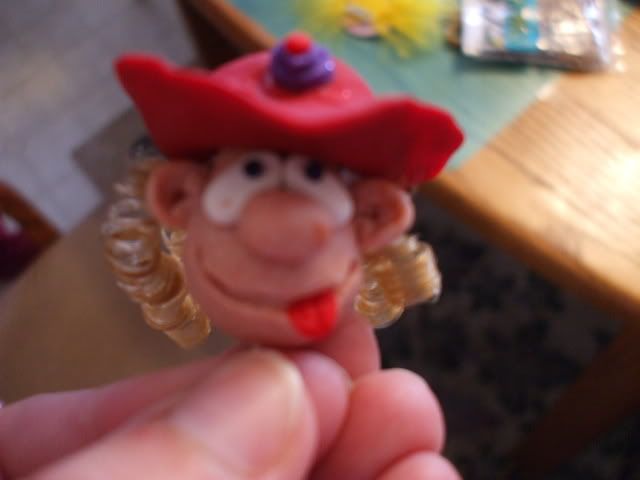 This is the head of a Red Hatter that Gert was making. It is going to be a pendant. All the pieces still needed put together, but they were really cute.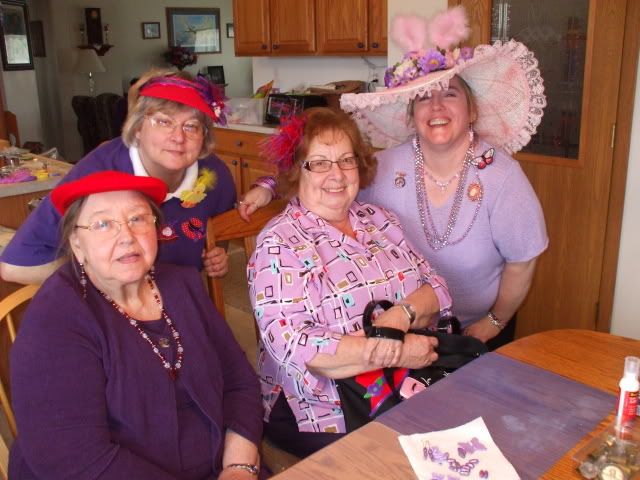 Here are a few of us, Phyllis & Boe in front and Kathe & Priscilla in back.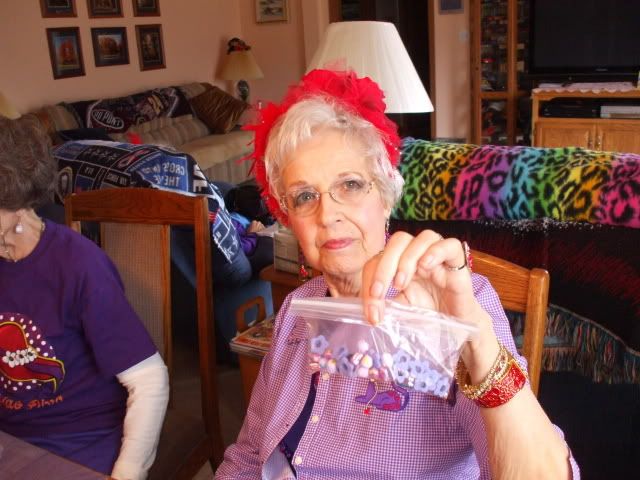 Grace is holding up her baggie of beads and supplies she made to make some jewelry.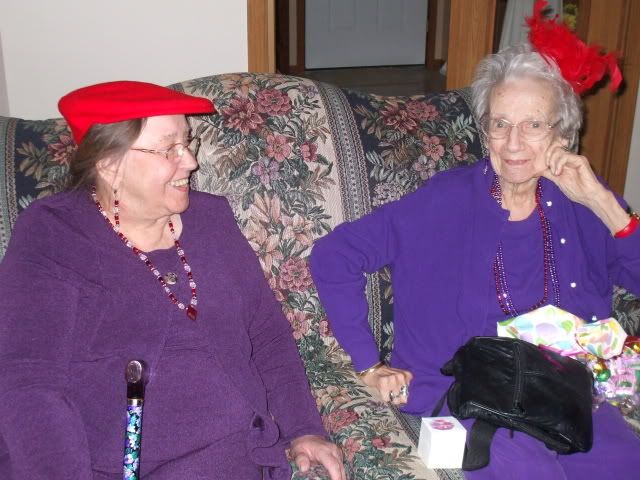 Phyllis and Betty having a good talk right before we headed home.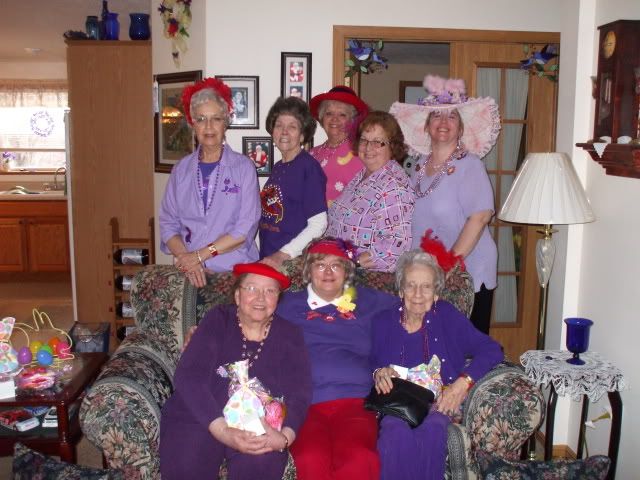 Here is the whole group. Phyllis, Kathe & Betty on the couch in front and Grace, Gert, Mary, Boe & Priscilla
Thanks so much Kathe for opening up your home to us again and also supplying all the materials for our craft.
We worked on some crafts and then had a nice lunch which everyone brought something to help out with that and then worked again to finish up any projects we needed to.
---
Fashion Show ~ April 4, 2009
---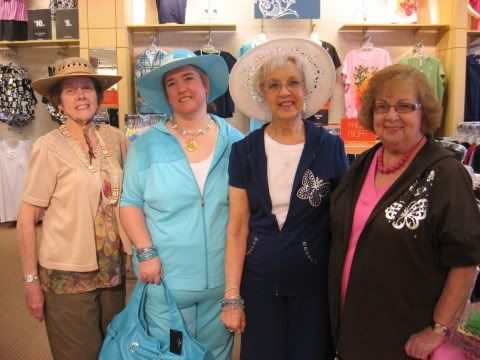 Some of the lady jewels were models in a local Fashion Bugs Spring Fashion Show. Here we all are in our casual attire. Gert, Priscilla, Grace & Boe. Don't we look great!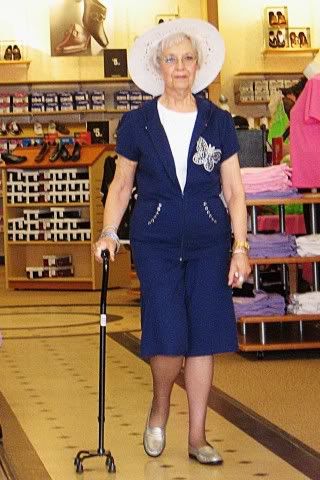 Here comes Grace strutting her stuff in her casual outfit.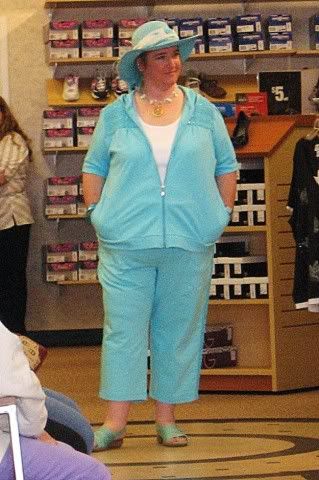 Here is Priscilla in her casual outfit. The announcer is discribing the outfit when this was taken.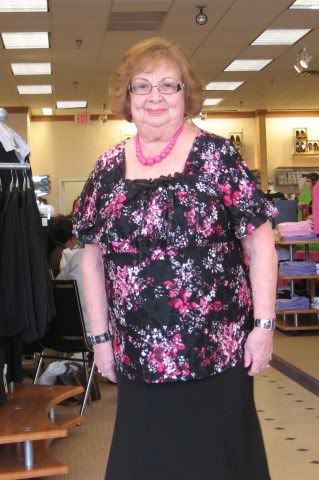 This is Boe in her dressy outfit strutting her stuff.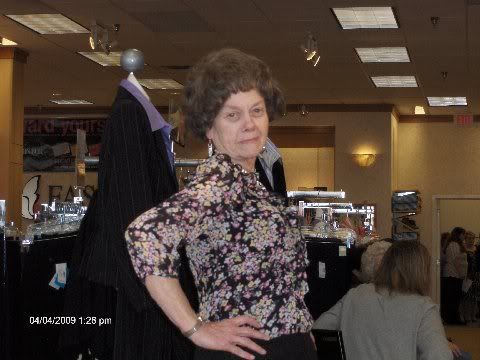 Look who has attitude in her dressy outfit - Yep it's Gert, you go girl!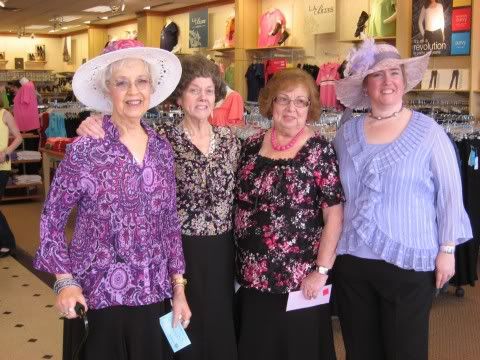 All our dressy models look great, don't they?
---
Card Making Party ~ April 18, 2009
---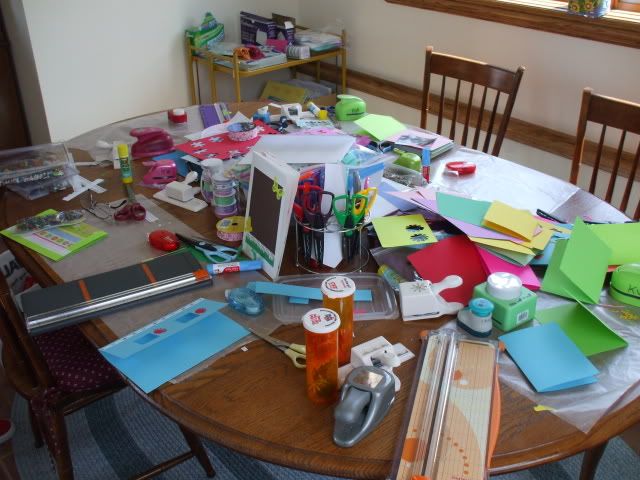 We had a great time making cards and punching. Not each other of course, lol, but using each others punches for future use. Forgot to take pictures while we were working but this is how the table looked while we took a break for lunch.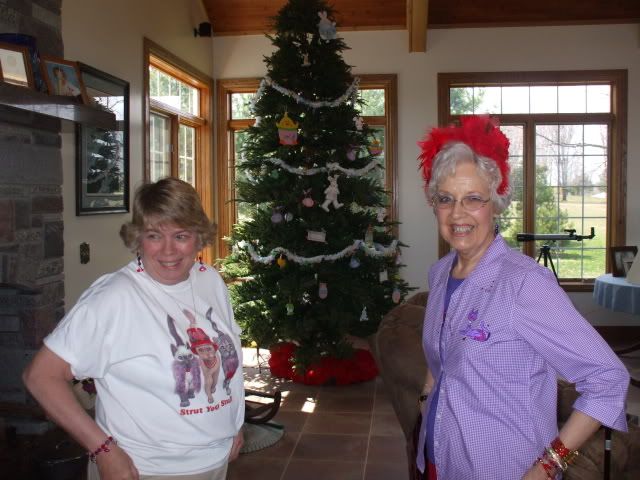 After lunch we were gathering to take a group picture. This is Darlene and Grace just talking and waiting for the others.
This is the whole group in front of Darlene's Easter tree. From left to right we have - Gert, Boe, Betty, Priscilla, Grace, Darlene & Kathe. Thanks Darlene for opening up your home again for us to come and have fun.
---
Red Hat Birthday Party ~ April 22, 2009
---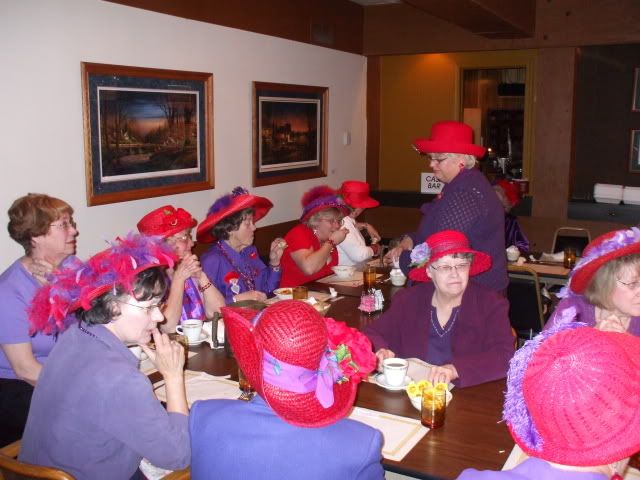 This is the third year that our chapter has been invited to join the Hadley Hatters and the Red Vibes to celebrate the birthday of the Red Hatters. This year we were at Cianci's Restaraunt in Greenville. Here are some of the ladies.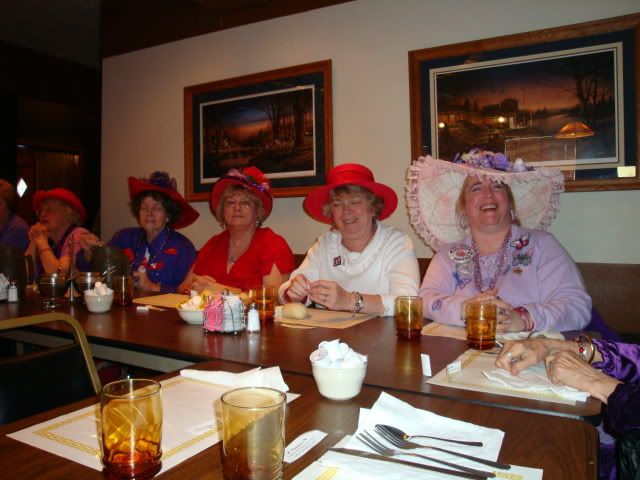 Seated in this picture from left to right are, Judy Beuchat from the Red Vibes and then the Jewel Ladies are Gert, Kathe, Darlene & Priscilla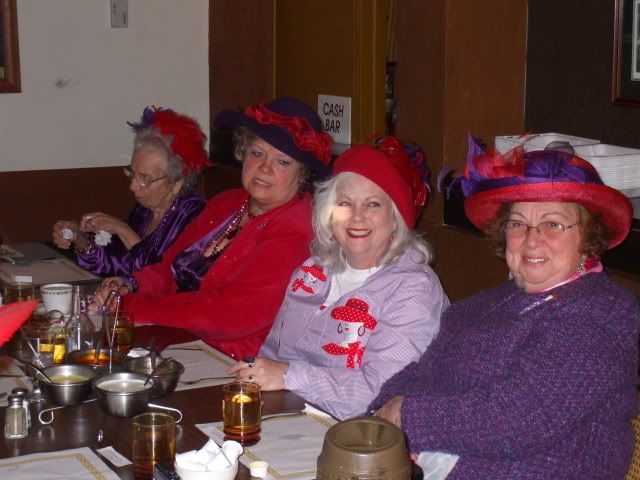 The rest of our Lady Jewels - Betty, Mary, Reba & Boe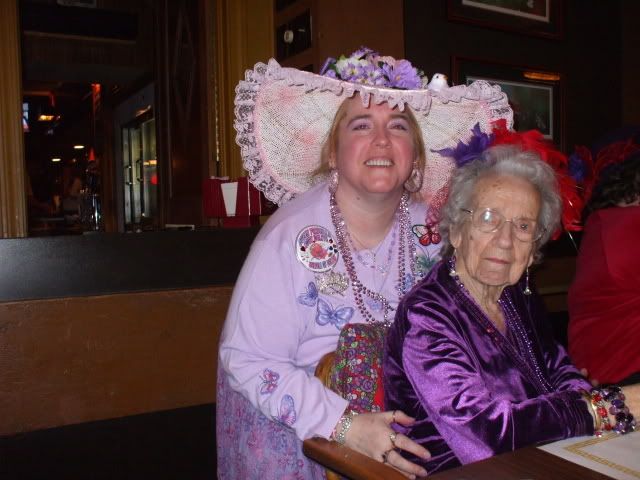 The Queen and the Queen's Mum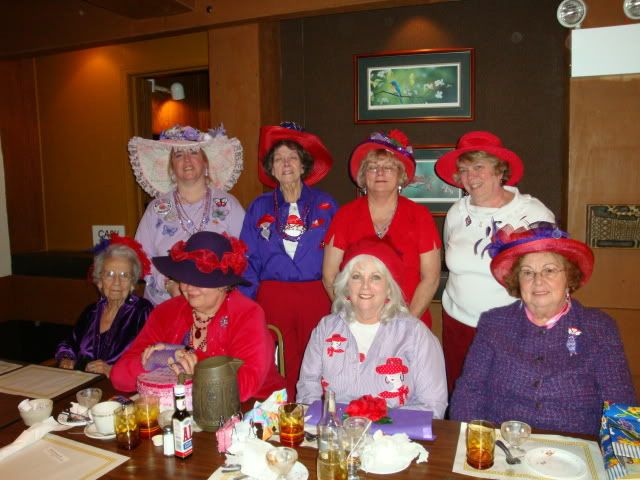 The whole group - in front, Betty, Mary, Reba & Boe and then in back Priscilla, Gert, Kathe & Darlene
---
A Day in Jamestown ~ May 9, 2009
---
We started out our day by meeting for breakfast at Rosie's at Mark Twain Manor. There were 10 of us there. Grace, Mary, Betty, Mariah, Kathe, Phyllis, Phyllis Rose, Darlene, Melissa and Priscilla. I didn't get any pictures - what is wrong with me? After we broke up from a wonderful filling breakfast, Mariah, Phyllis and Melissa had to leave us, but the rest of us went across the street to a new Antique shop that is opening. Then off to Myrna's.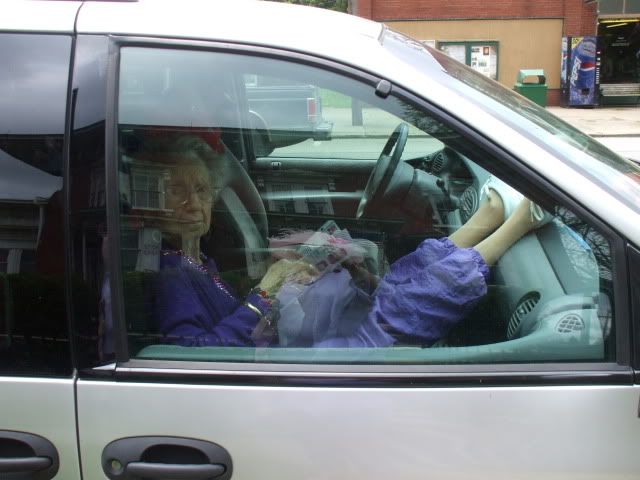 When we came back from shopping across the street we found Betty relaxing in the car, feet propped up and all.

Then we head out to find another new shop called The What Not Shop, which we all loved and then off to Jamestown Soap Works.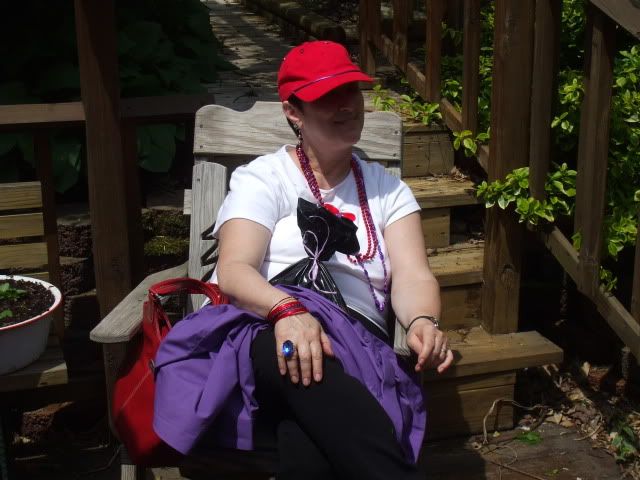 After shopping inside Jamestown Soap Works we were starting to wind down. Here is Phyllis Rose relaxing in the sun.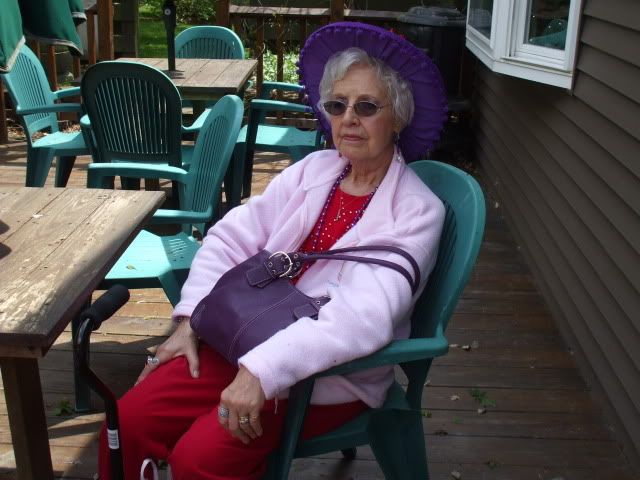 Grace takes a bit of a rest too.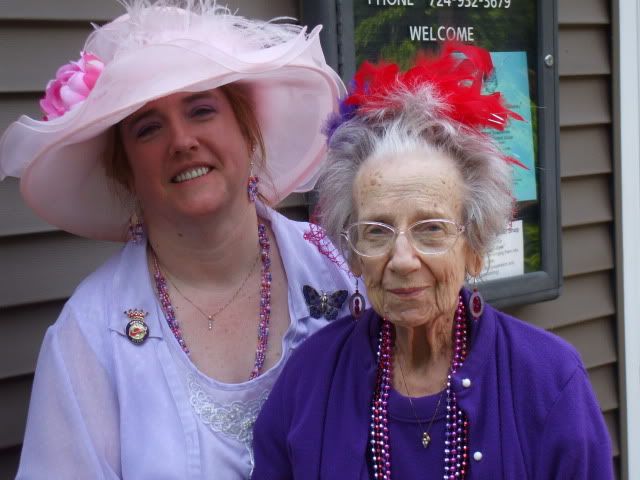 Priscilla and Betty outside Jamestown Soap works, getting ready to head for the next stop. By that time it was after 2 and we were ready for lunch. By this time we were down to 5 of us, Grace, Mary, Phyllis Rose, Betty and Priscilla, we went back to Rosies again for lunch to help promote her business. We had Great food again. After we left here, we parted company. I was worn out. lol
---
Happy Feet ~ June 13, 2009
Jamestown Soap Works
---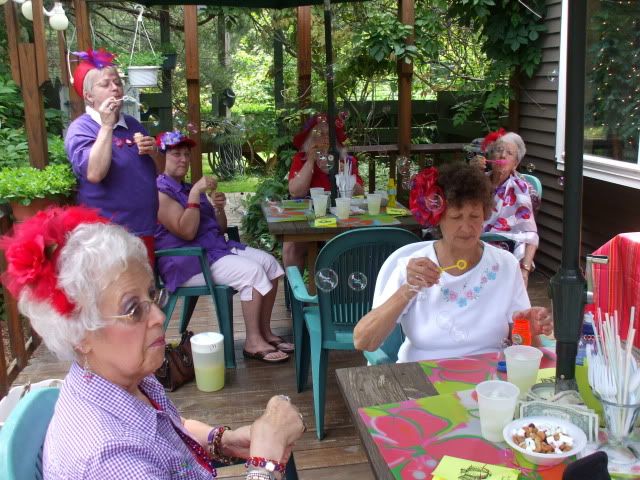 This years theme for Happy Feet is "Good Ole Summertime" So we had fun blowing Bubbles before we had lunch.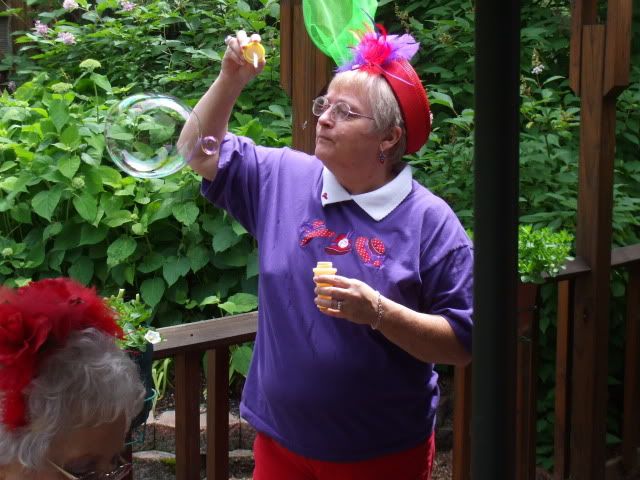 Kathe was getting good at making the really large Bubbles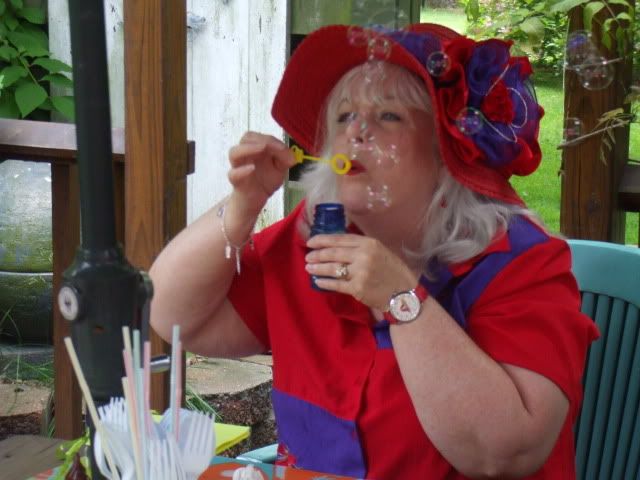 Reba was a good Blower too!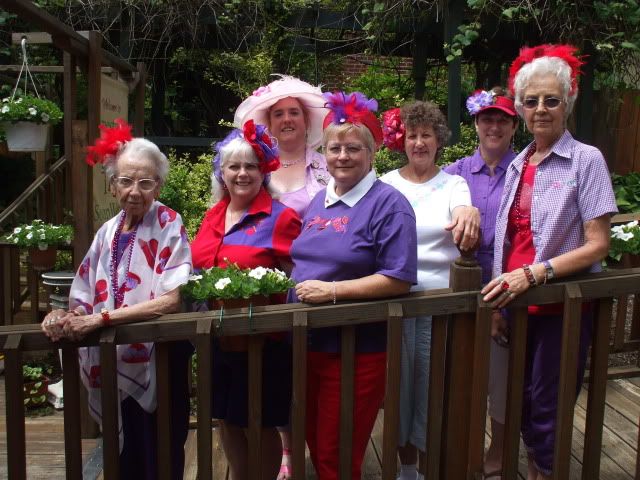 We had a delicious lunch that Jan provided and then had a relaxing time and made our feet happy. Before we headed into the shop to look around, we took a group picture. Here is Betty, Reba, Priscilla, Kathe, Gracia, Phyllis Rose & Grace.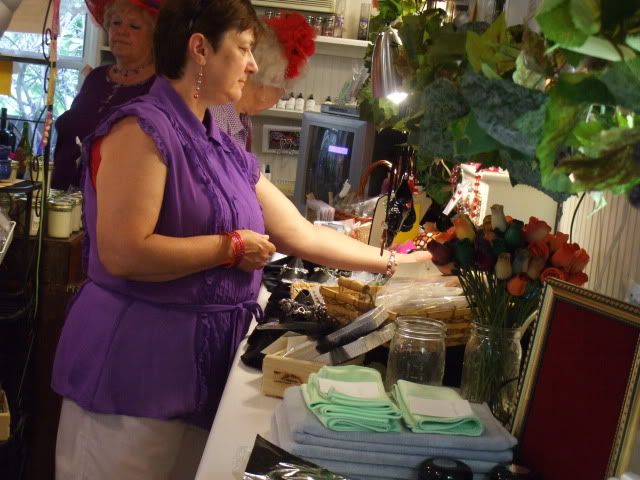 Shopping Time
---
Happy Feet/Birthday Party ~ July 18, 2009
---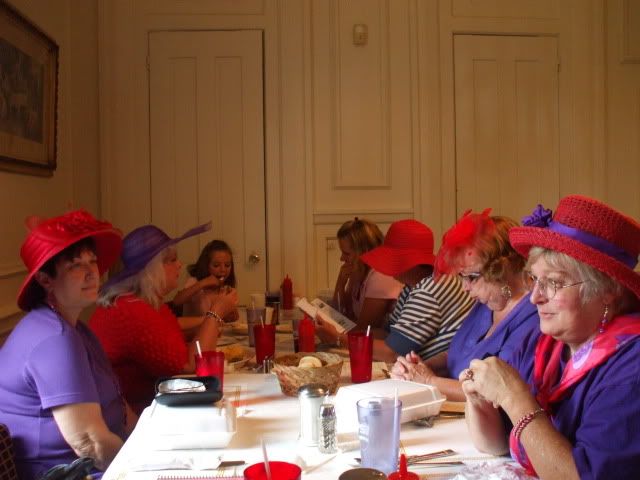 Our Happy Feet plans were cancelled due to rain, but we decided to meet at Rosie's in Jamestown for lunch anyway. We had a nice lunch and I got to open cards and presents since it was my birthday. Yeah! LOL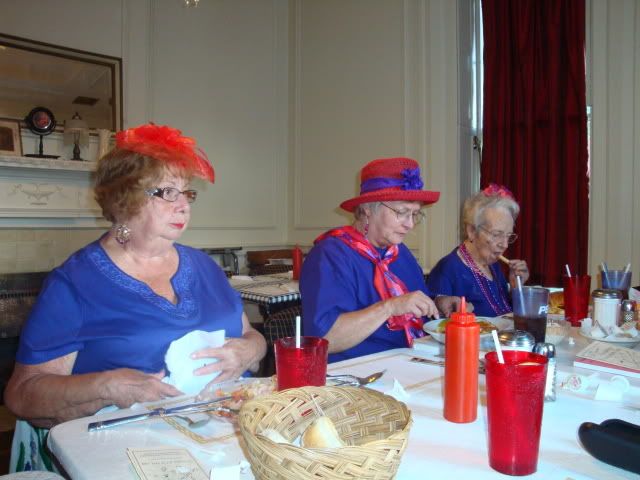 Boe, Kathe and Betty enjoying their lunch.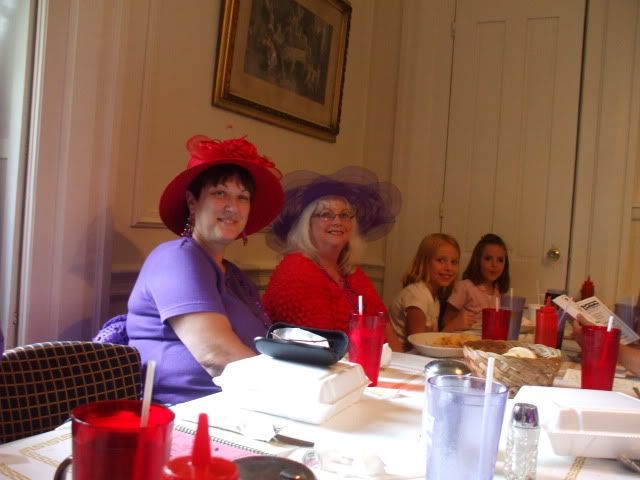 Phyllis Rose, Reba, Shaila and Meaera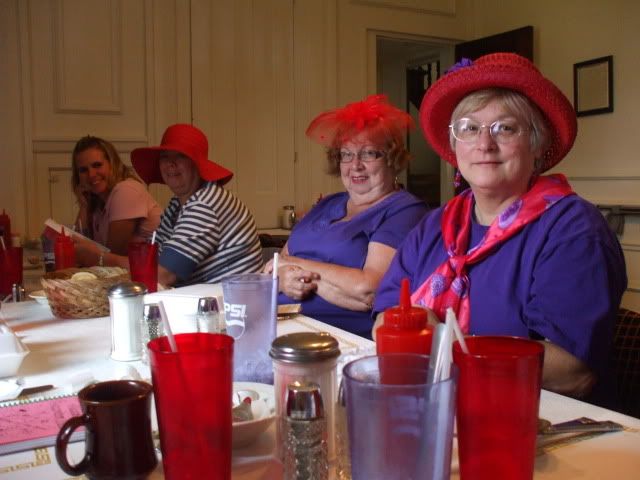 Mariah, Darlene, Boe and Kathe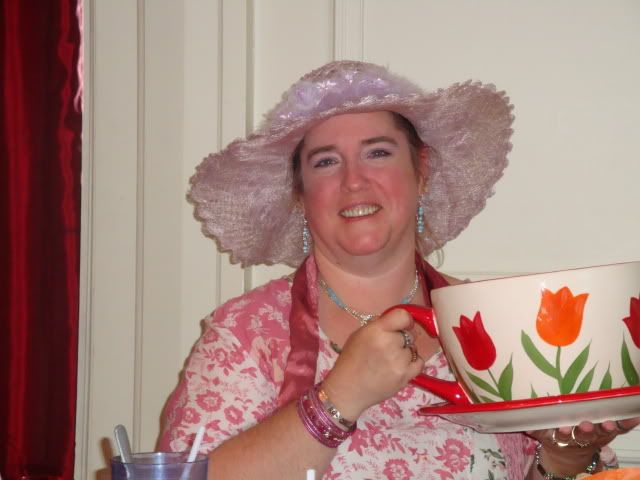 One of my lovely gifts. I've always wanted one of these huge tea cup planters. I was so excited.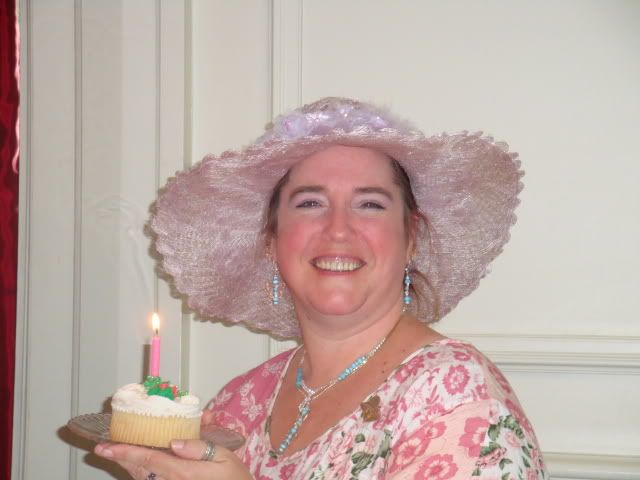 They brought out a little cake for me for my birthday and everyone sang. The next day, the 19th is Rosie's birthday too. So we all wrote on a placemat birthday wishes for her.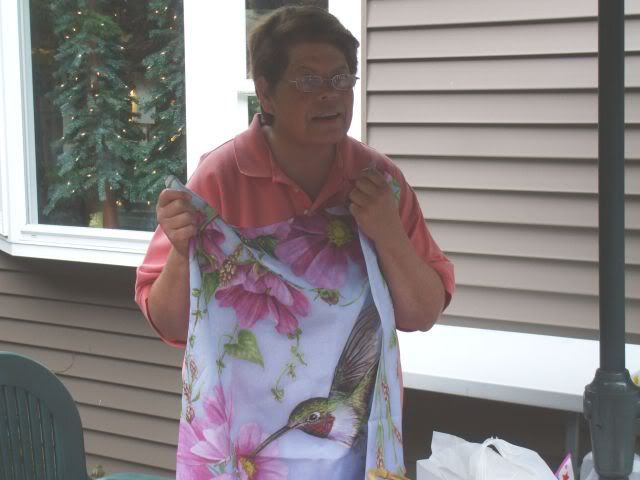 We had planned a surprise birthday party for Jan whos birthday is the 28th of July. But since our Happy Feet was canceled we just had to change our plans a bit. We went out to Soap Works and surprised her with gifts anyway. Here is Jan opening a pretty hummingbird flag.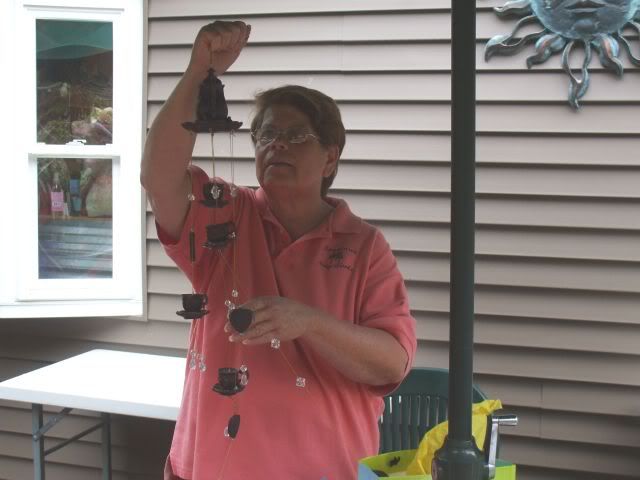 Here is Jan with a pretty wind chime. I think she was surprised. LOL
---
August 2009 Happy Feet/Birthday
---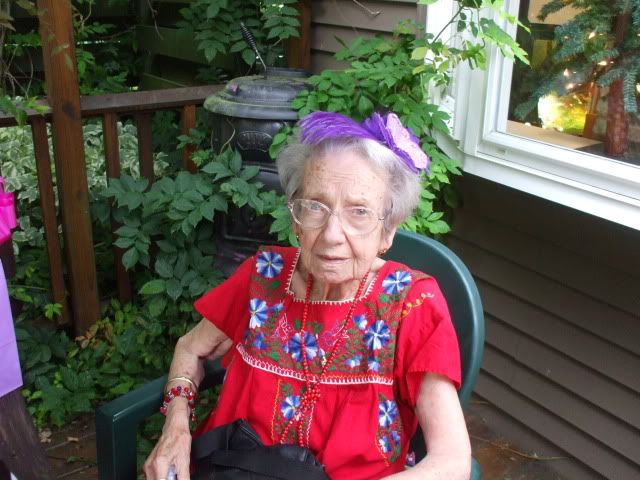 Guess who's birthday was in August - Yep, Baroness Betty's 89th Birthday.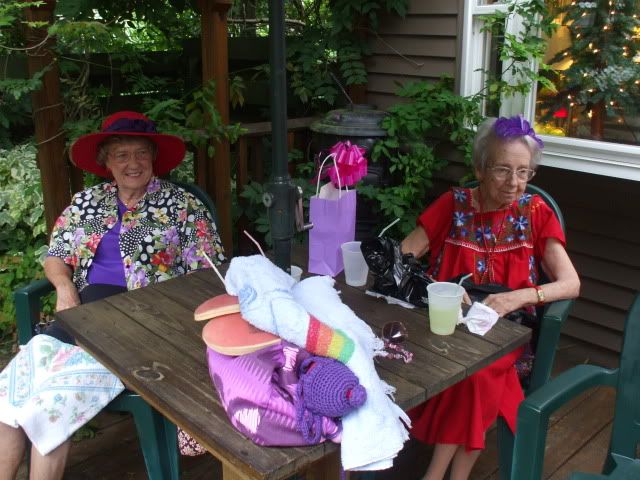 Here the birthday girl is sitting with Vonda Overfield. She lives across the street from us in the summer and in Florida in the winter. This was just before she left for Florida.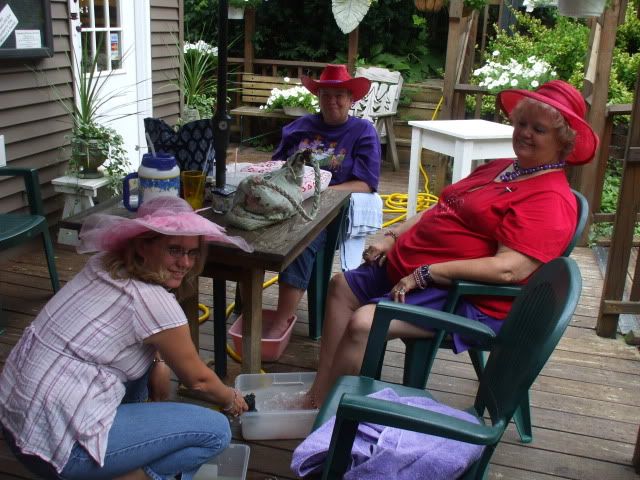 After another great lunch that Jan made for us, it was time for making our feet happy. Mariah is filling Mary's foot bath with nice warm water. Darlene is already soaking away.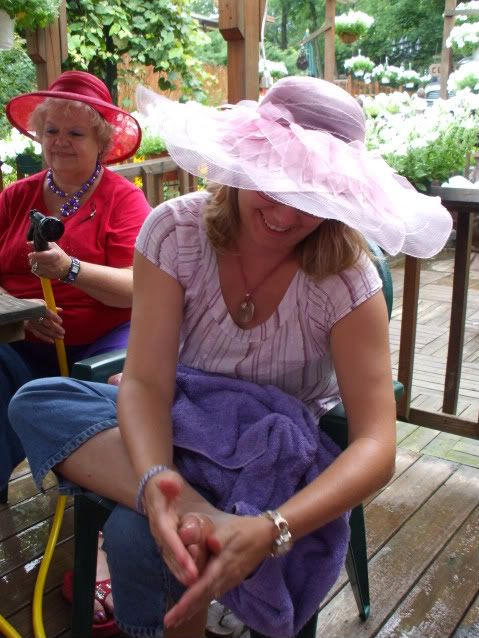 After a nice long soak in the peppermint salts, it's time to use the shea butter and salt to take off all the dead skin and soften those tootsies. It looks like Mary is ready to spray Mariah, I see her with the hose.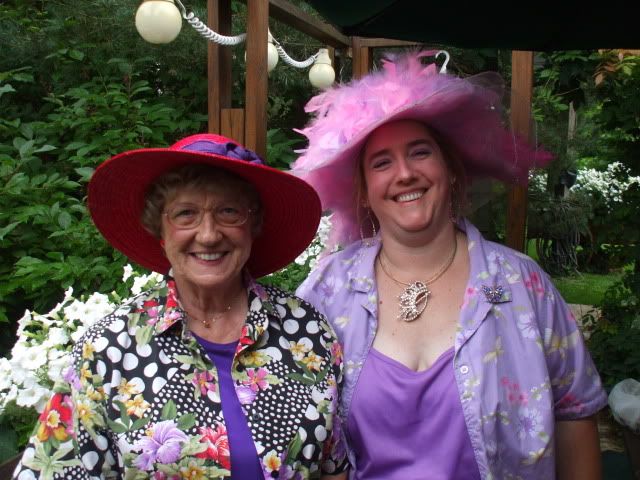 Vonda and Priscilla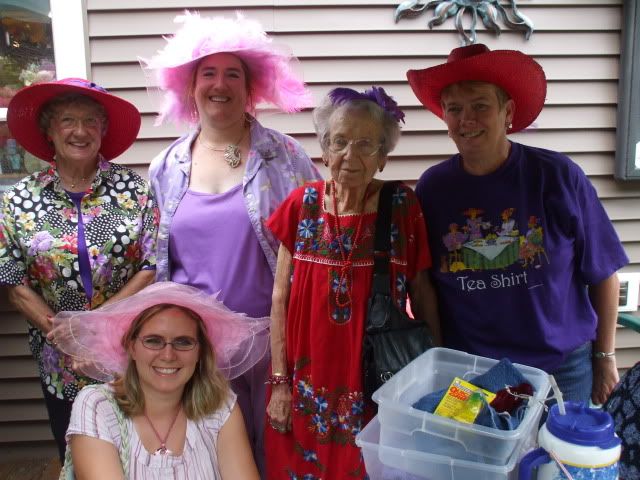 Mary was taking the picture of our group this time. Mariah is in the front with Vonda, Priscilla, Betty and Darlene in the back. We all had Happy Feet!!
---
September 19, 2009 ~ Happy Feet/Birthday
---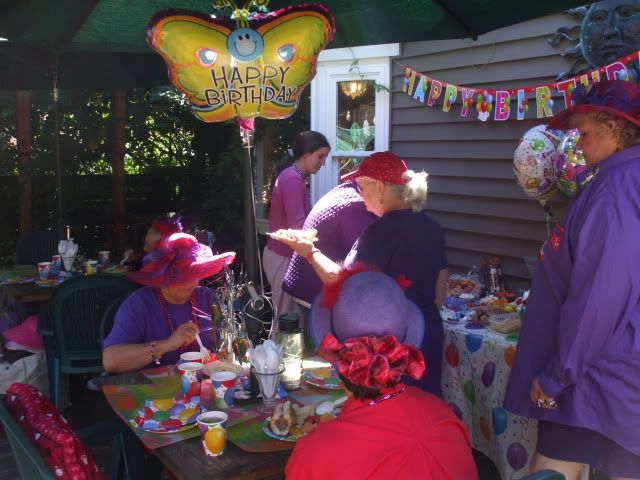 This month it was Phyllis Rose and Darlene's birthday. Darlene was off on a cruise, but it was time for Phyllis Rose to wear her purple hat and red clothes. On your birthday month, you can switch your colors and wear a purple hat instead of a red one.
We had a Pot Luck Lunch this time. There is always lots of very good food.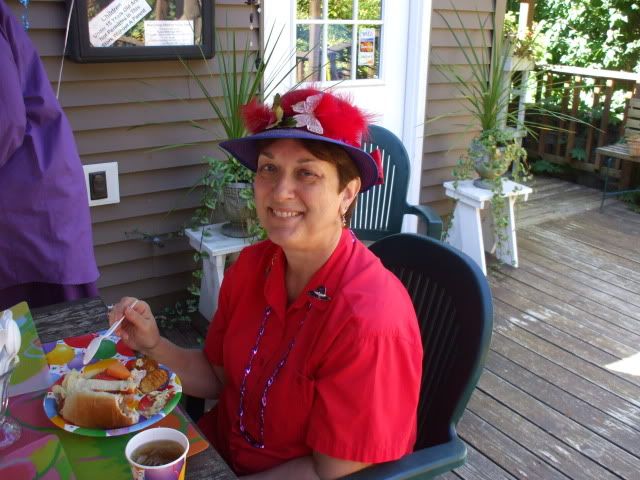 The Birthday Girl herself ~ Phyllis Rose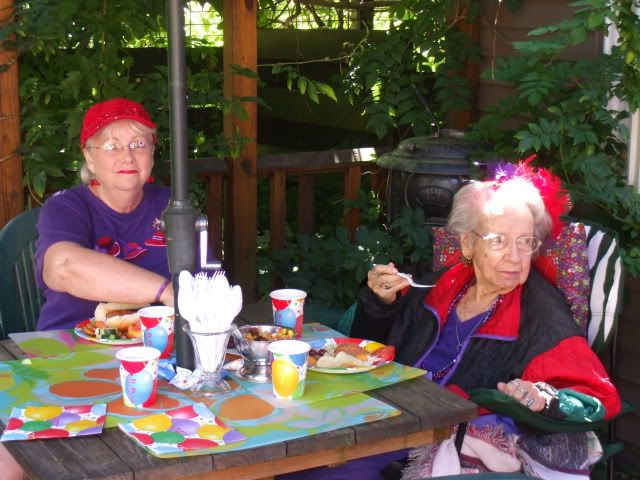 Reba & Betty enjoying our Pot Luck Lunch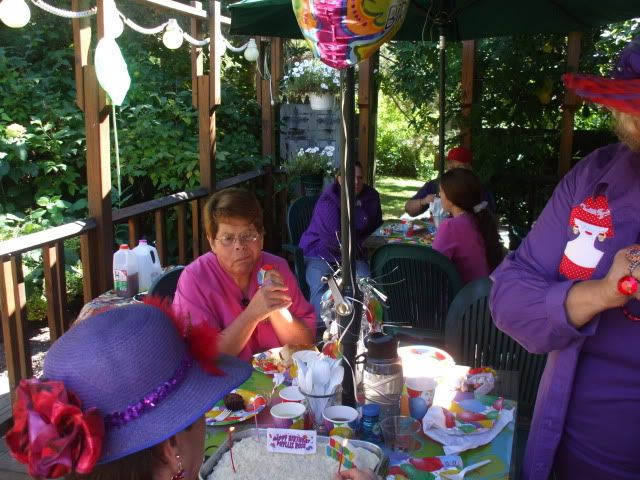 Jan was especially busy with business, which is always good, but when things settled down, she got to come enjoy some of the great food that was brought.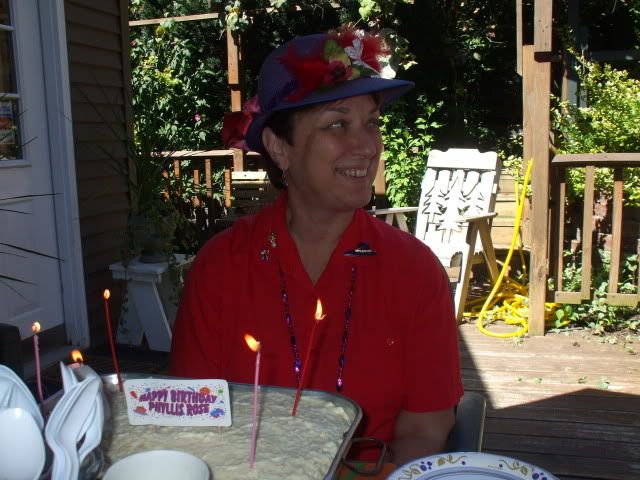 Phyllis getting ready to blow out her candles.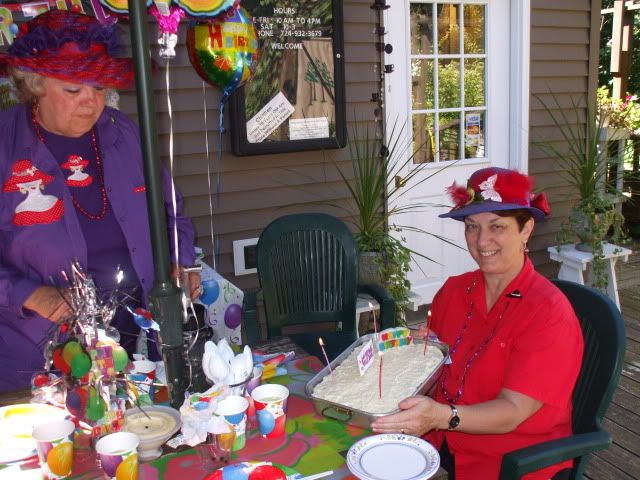 Happy Birthday to you, Happy Birthday to you, Happy Birthday dear Phyllis, Happy Birthday to you, And Many more!!!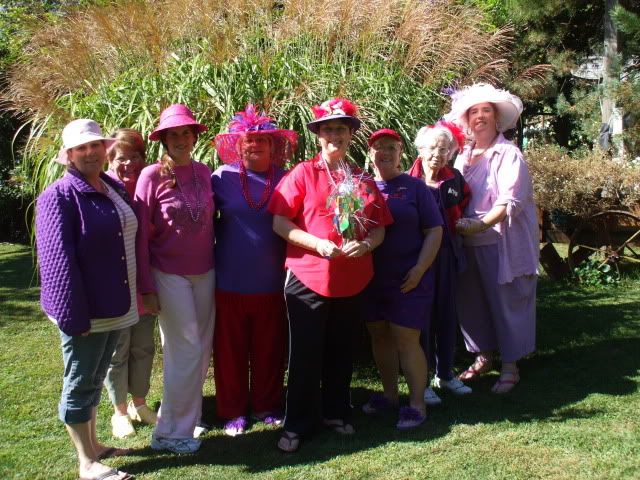 Mary took our group picture for us. Two of Kathe's granddaughters joined us at this Happy Feet. We have Sheri Brumbaugh, one of Kathe's granddaughters and Jan Baznik peeking through from the back. Nikki Hegrat, Kathe's other granddaughter, Kathe Wilson, Phyllis Rose Sanford, Reba Gizdic, Betty Bell and Priscilla Sharp.
This was our last Happy Feet for the year. ;o(
---
The Scarf Lady ~ October 3, 2009
---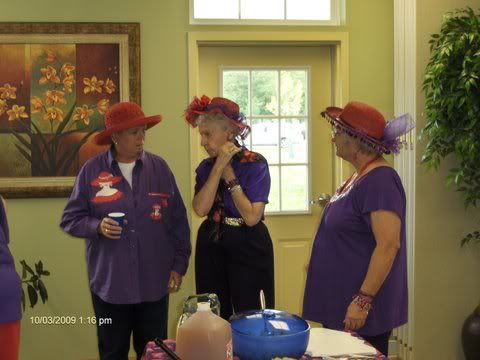 Boe had us come to the Community Center where she lives for this outing. It's a wonderful place. We will have to take advantage of it again. But Boe's friend Alice does a scarf demonstration that is great and she had Alice come this day. This is Darlene, Alice and Kathe talking.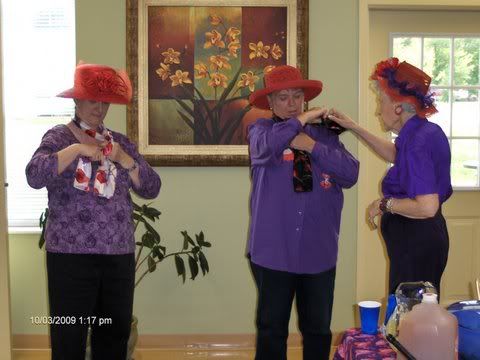 Before we even got things ready, Alice was helping with tying a straight bow. Here Phyllis Rose and Darlene and giving it a try.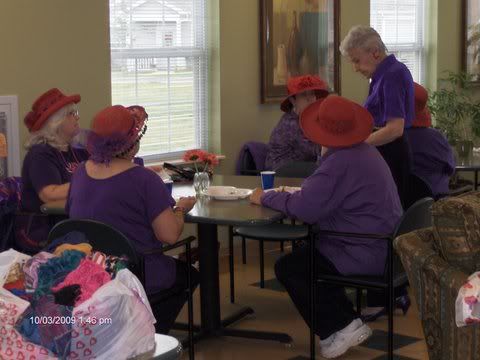 After a great lunch, pot luck, we sat down and Alice started showing us all kinds of different ways to use different size scarves.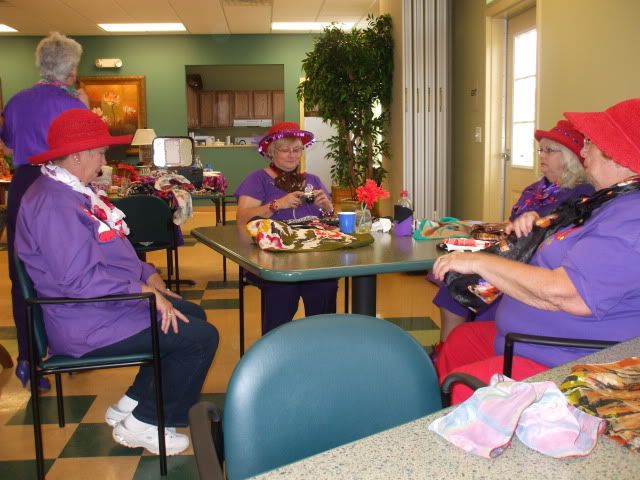 Here are Darlene, Kathe, Reba and Boe awaiting the next instructions from Alice.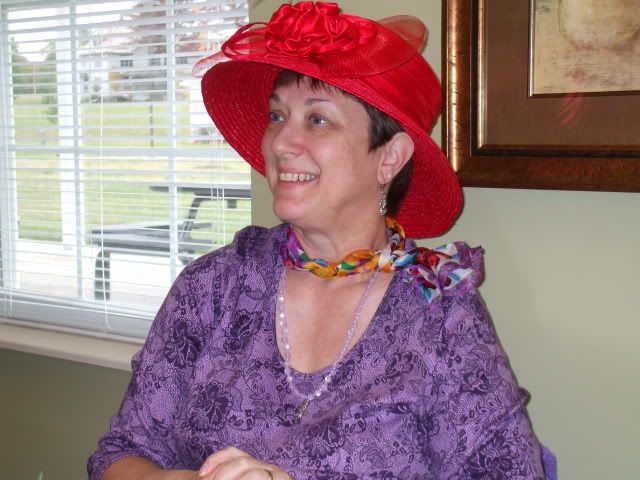 Phyllis Rose was proud of her scarf creation around her neck.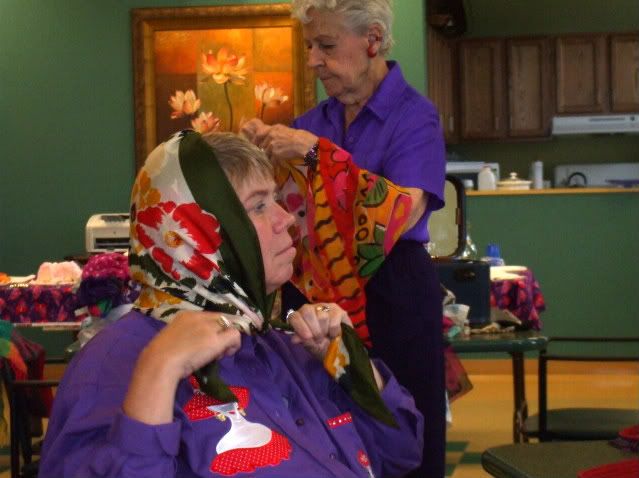 Darlene was trying one that you use on your head and it won't blow off, even when riding out in the air.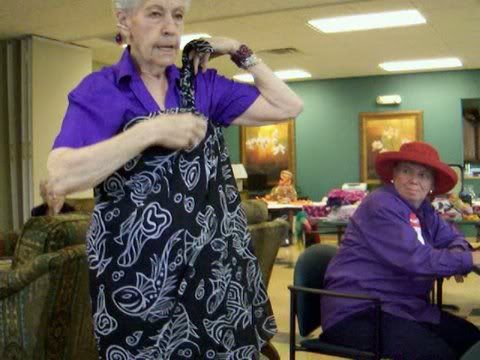 Here Alice uses a large scarf and actually makes a dress or beach cover-up.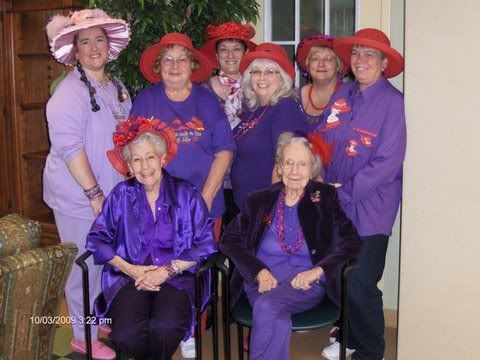 Our group picture that Mary took for us.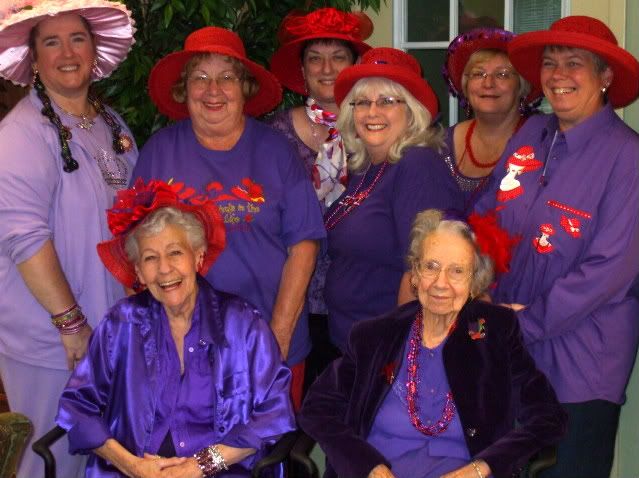 And a closer look at our great group. Alice and Betty are down front, with Priscilla, Boe, Reba and Darlene in the next row and Phyllis Rose and Kathe in back.
---
Autumn Tea ~ October 17, 2009
---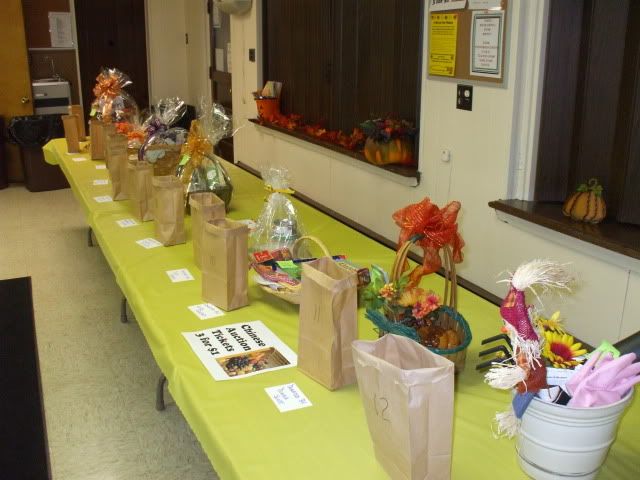 The Stateline Cemetery Association put on another great tea this year. They had a Chinese Auction with lots of great things. I think our table won 4 of the items.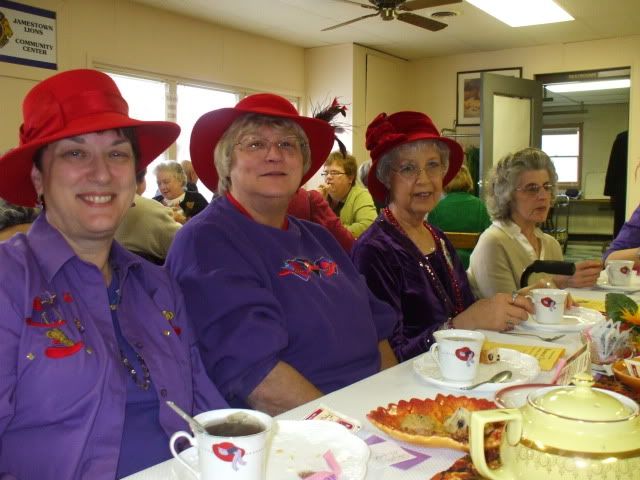 I think we all enjoyed this tea. They certainly keep bringing the food until you can't eat anymore. Here is Phyllis Rose, Kathe, Grace and Mariah's mother-in-law Mrs. Shannon.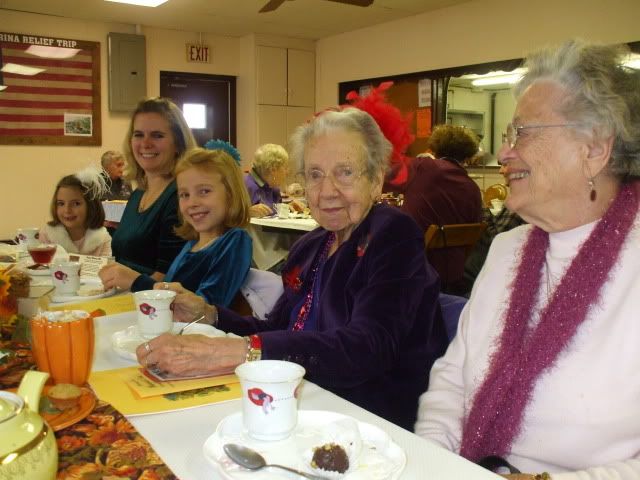 On the other side of the table we have Mom's friend Janet, Betty, Shaila, Mariah and Meaera.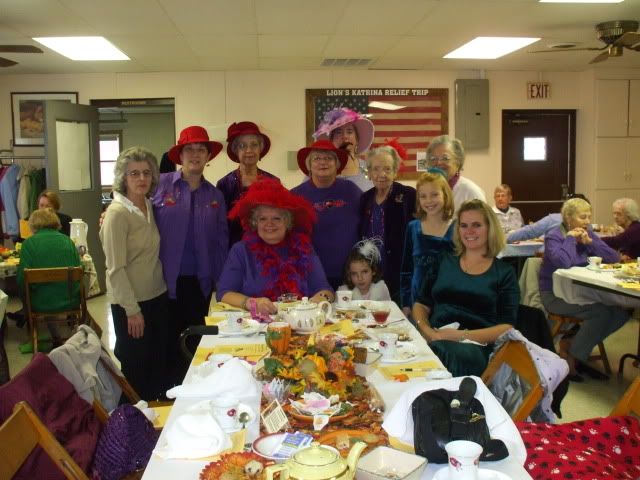 Our whole group at our table. They have Red Hat tea cups that they use when we come. Makes us feel special.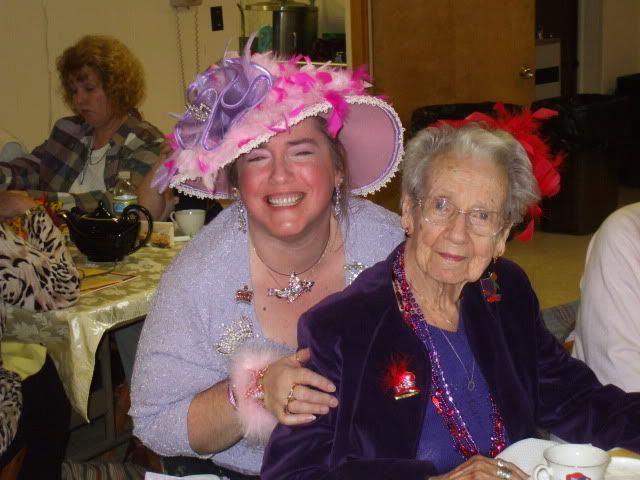 Mom and Me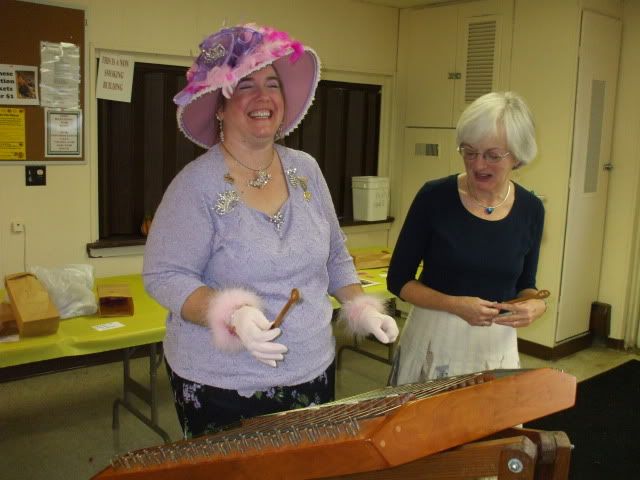 Part of the entertainment was this lovely lady who played the Hammered Dulcimer. Afterwards she asked if anyone would like to give it a try. So guess what, I did. It was fun.
Phyllis Rose also gave the hammered dulcimer a try.
---
Halloween Party ~ October 31, 2009
---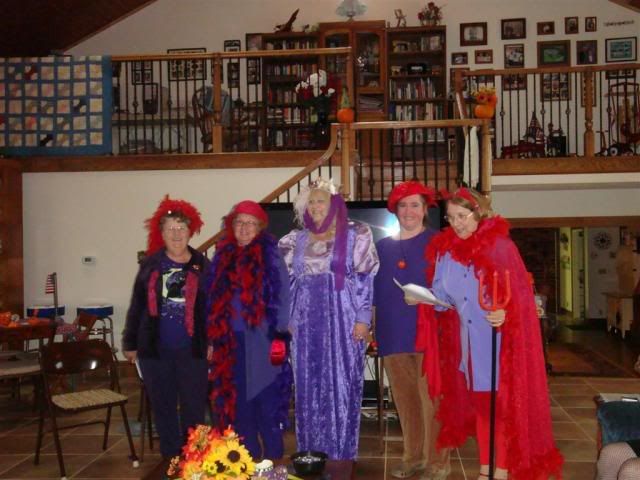 Our Halloween party was great fun. The Hadley Hatters and LePlume Rouge Hatters joined us. Some of the LePlumes and myself but on a little skit to open up the afternoon. It was called The Red Hat Queen and the Devil. Here were the cast members. Diane, Elaine, Anne, Priscilla and Renata.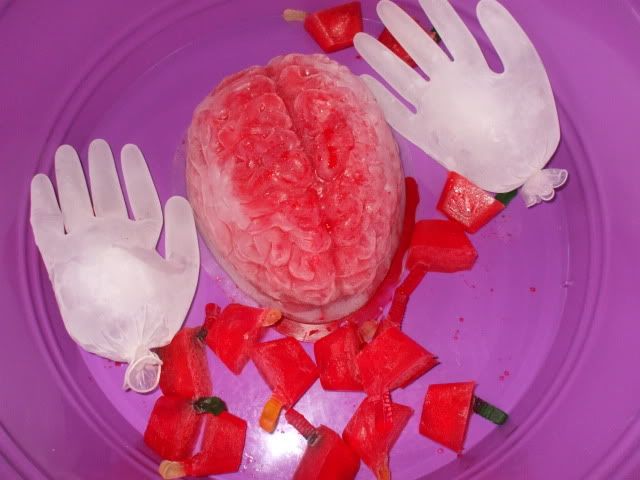 Here was the begining of the punch. An icy brain, hands and gummy worms coming out of ice cubes. YUM!!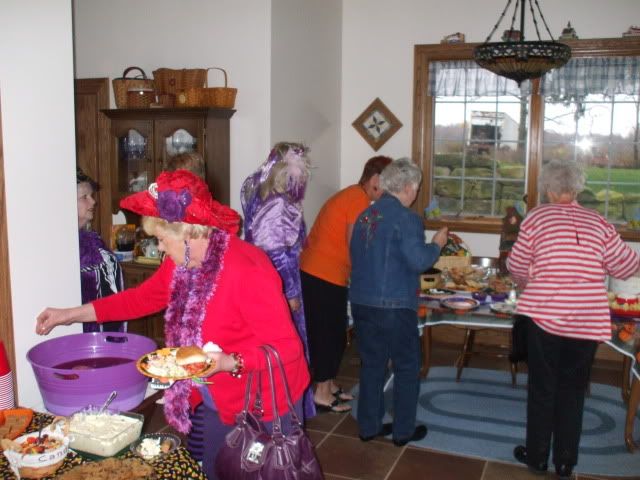 Everyone brought a dish to share. We had all kinds of food. It was great.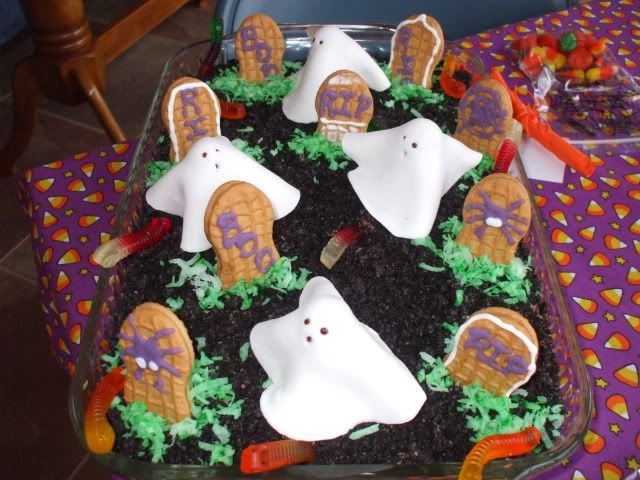 This was a Spooky Graveyard that I made. YUMMY!!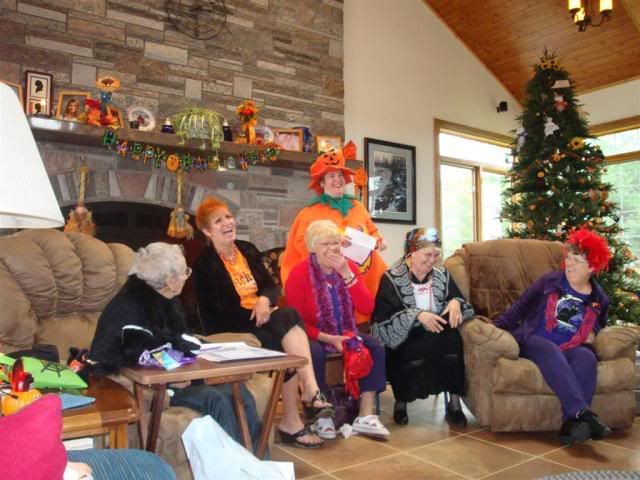 Some of the ladies relaxing after a great lunch and getting ready for some fun games.
This is the whole group. So many cute costumes. Anne won first place for her Princess outfit and Grace came in second with her pirate.
---
Recycled Christmas Cards ~ November 14, 2009
---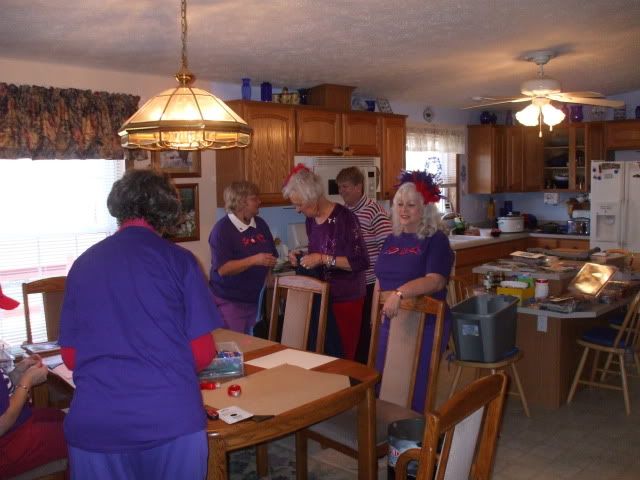 Kathe opened her home again to us this year for our Recycled Christmas Card Party. Here we are, starting to get things together to creat new Christmas cards from old cards. Kathe gives lots of tips on creating. I think she is helping Grace here.
Creative juices are starting to flow. Here Gert, Phyllis Rose, Darlene, Grace and Reba are getting started in creating Christmas cards.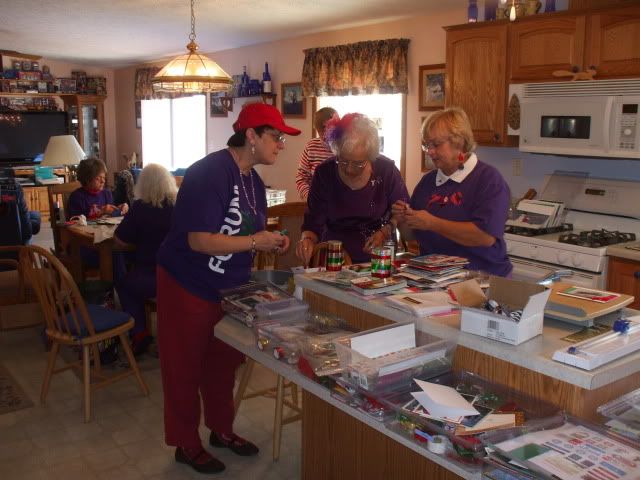 Look at all the supplies to choose from. Kathe is generous enough to share all her supplies with us. Everyone brings things they have to share.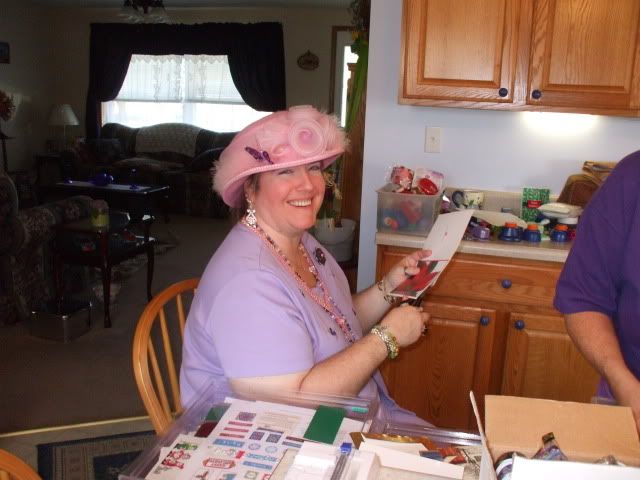 Phyllis Rose thought since I was taking pictures of everyone working, she would take a picture of me at work.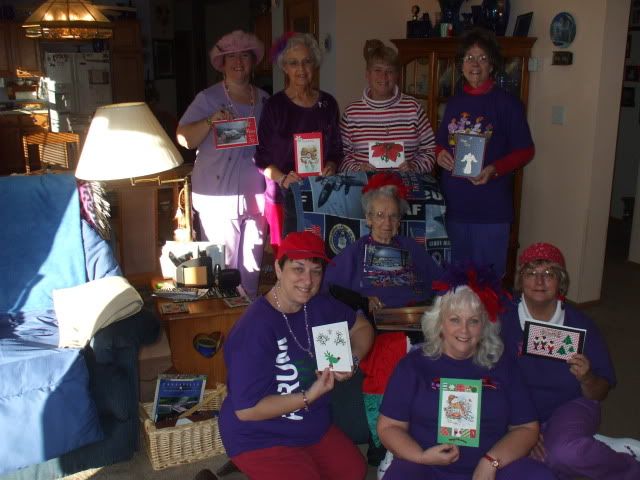 Here is the whole group holding one of their creations. Down in front is Phyllis Rose, Reba and Kathe. Betty is sitting in the chair with Priscilla, Grace, Darlene and Gert behind her.
---
Shoebox Christmas ~ December 5, 2009
---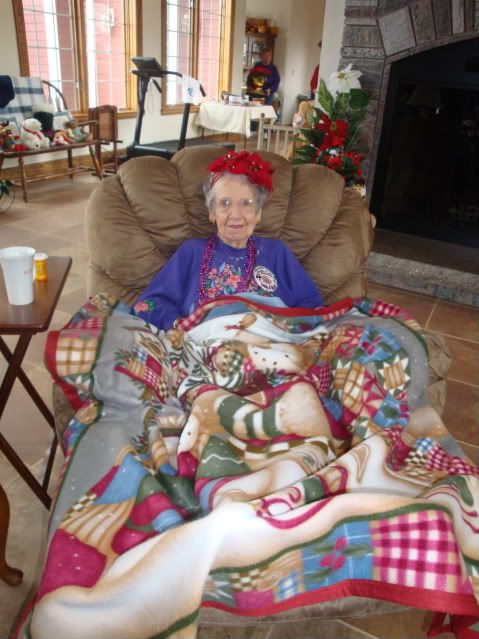 We had our Shoebox Christmas at Darlene's home. Thank you Darlene. After we got there Betty found her favorite chair and got all covered up and looked comfortable.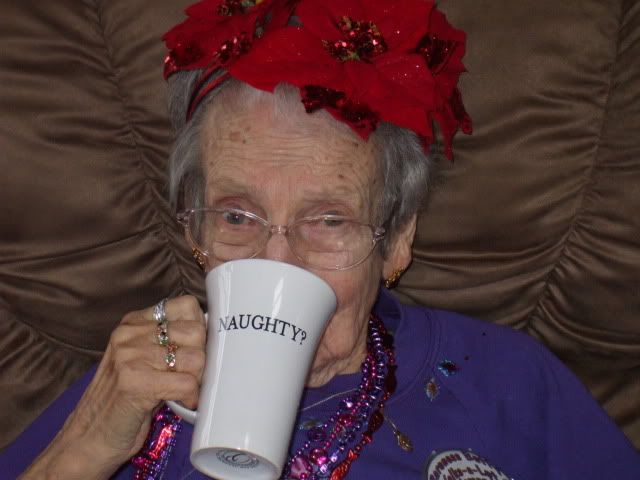 Guess who has been NAUGHTY this year.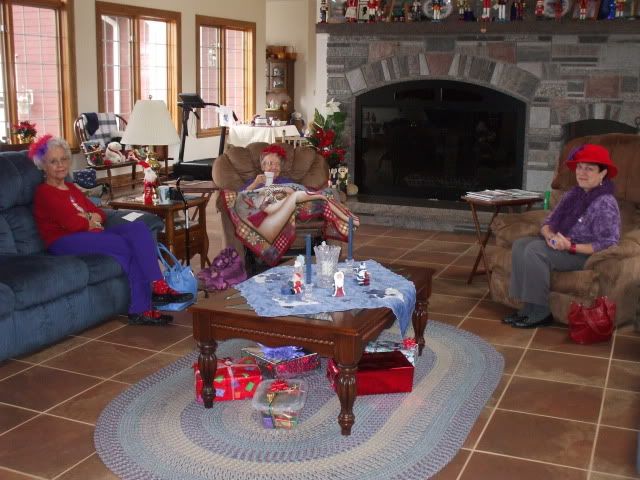 Here is Grace, Betty and Phyllis Rose relaxing while we wait for the last ones to come.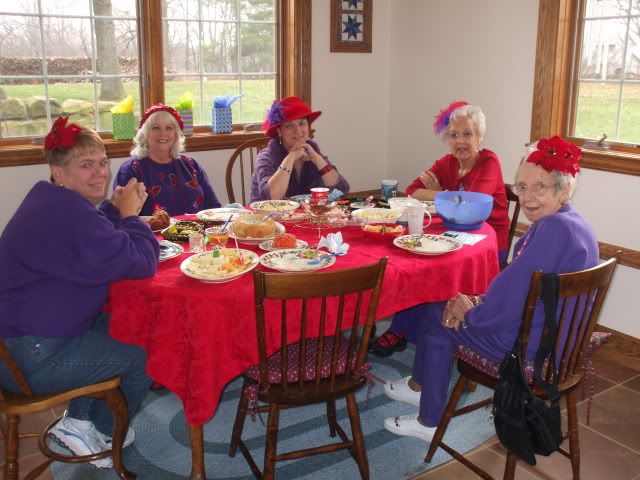 We had a small group, but lots of great food. Here is Darlene, Reba, Phyllis Rose, Grace and Betty.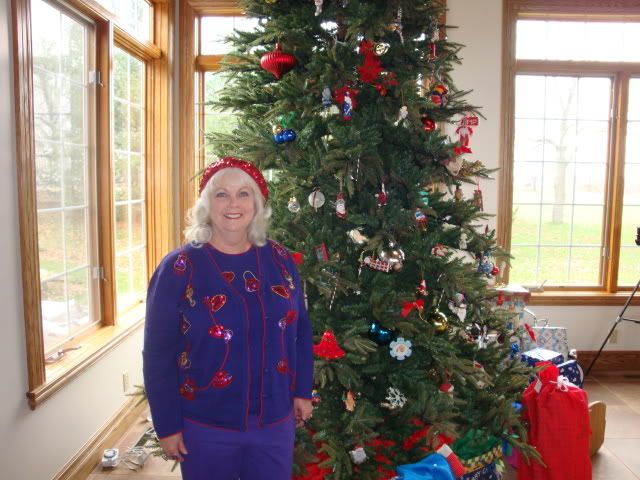 Here is Reba in front of the Christmas tree.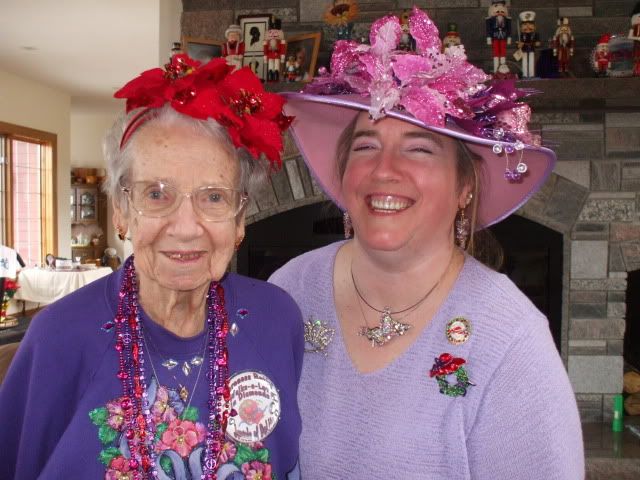 Mom & Me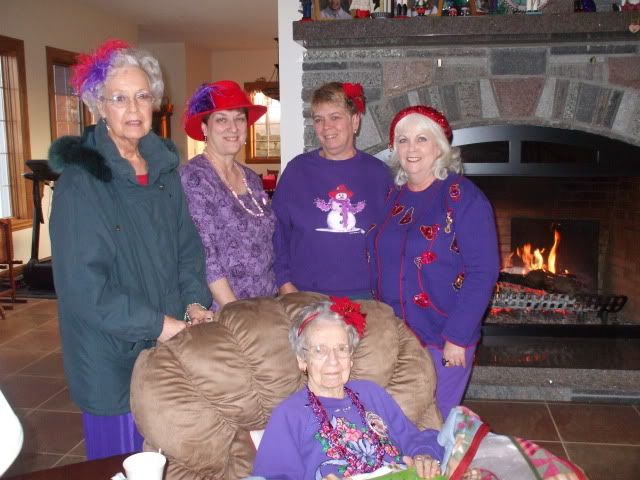 We had a great fire burning in the fireplace. So cozy. Before we left for the day, we exchanged our Shoeboxes and talked about things we wanted to do next year.

The end of another great year with the Jewels of DeLite.
---
---